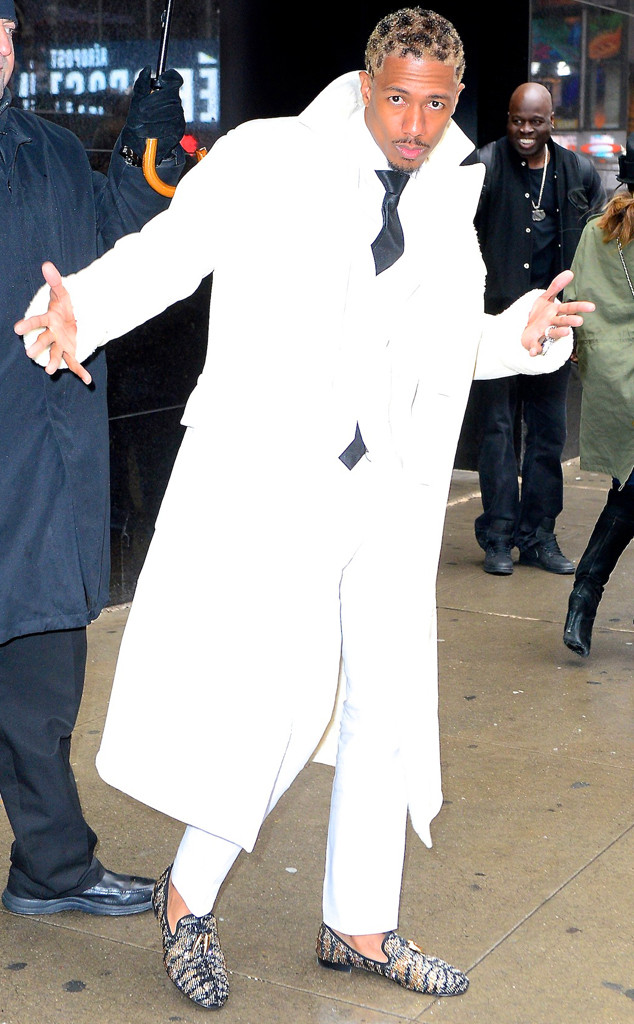 Splash News
First whiteface, now cheetah-print hair!
One week after he posted photos and videos of himself dressed in whiteface as his Caucasian alter ego Connor Smallnut, Nick Cannon stepped out with a wild and colorful new hairdo today.
Cannon first debuted his cheetah-print hair coloring on Instagram this morning, writing, "I usually don't do #Selfies but I think my new hairstyle is worth it! #Animal #TheWildLife #IFinallyLostIt #Cheetah #CantCatchMe #TooFast #TryToKeepUp #wppm #Ncredible."
Mariah Carey's other half added another photo soon after, writing, "Took like 5 hours to do this! Now I'm off to @GMA 'Good Morning America for real!!!' #wppm #TheWildLife."
Cannon then hit GMA in a white suit and black tie with colorful shoes that matched his new dye job. During his GMA appearance, the White People Party Music crooner defended his whiteface antics, saying it was all in fun to promote his new album.
"It was one of those things, obviously, even when naming my album title and doing the character, I knew it would spark some controversy," Cannon said. "But I feel like it's a conversation that's needed because we all have differences, we embrace it."
"It's even funny they're using this term 'whiteface,'" he said. "Like, I don't really know what that is. I know blackface is a term that was created in 1869 to describe offensive minstrel shows. Whiteface, if you look it up and Google it, it's a ski slope up in upstate New York. I was doing a character impression. Blackface is about oppression." "
"To me, this was to have fun," Cannon said. "Yes we have issues with race in this country, this world, but it doesn't have to be with hatred. There's a big difference between humor and hatred."