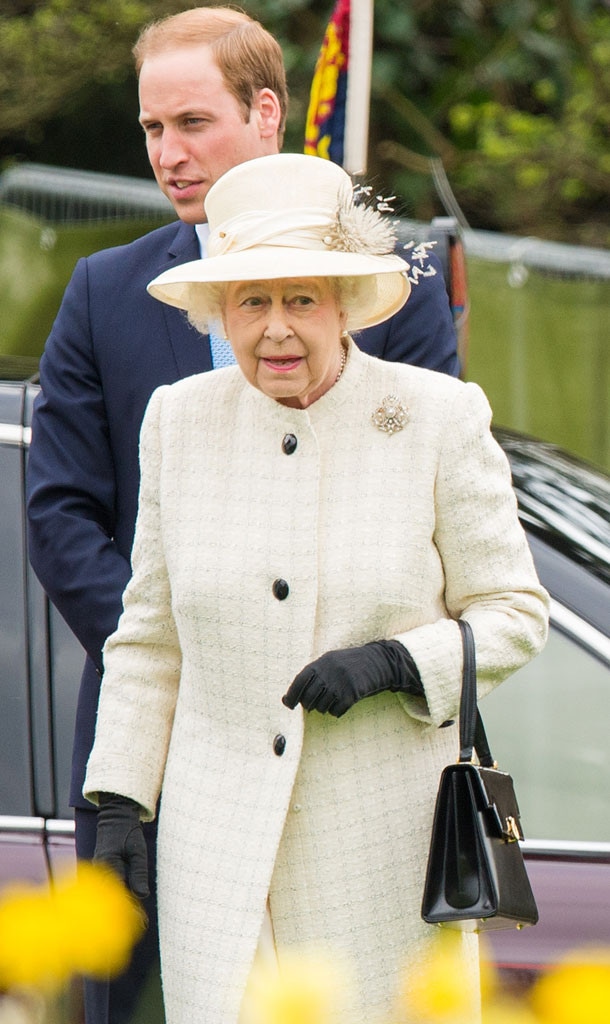 Samir Hussein/WireImage
Two horses fit for a queen!
Queen Elizabeth II was joined by Prince Philip and Prince William at the Windsor Greys Statue unveiling on Monday, where the royal unveiled two life-size Windsor Grey horse statues.
Created by sculptor Robert Rattray, the statues were made to celebrate the queen's coronation after residents raised £200,000 (over $333,000) for its creation.
A throng of 400 fans watched as the queen pulled back a purple curtain covering the massive statues, which were modeled after two horses stabled at the Royal Mews that are regularly used to draw the royal's carriage.
Mark Cuthbert/UK Press via Getty Images
Her Majesty was dressed in head to toe white, with the exception of her black gloves, and carried a bouquet of yellow flowers, adding a fancy hat to her ensemble as the 87-year-old monarch strolled through the crowd.
Additionally, Prince William and Prince Philip were seen sharing a sweet moment together as the granddad-grandson duo appeared to be exchanging a series of silly stories.
The event also marks one of the rare times the Duke of Cambridge has been joined by both his grandfather and grandmother at a public event.
Meanwhile, Kate Middleton was spotted shopping at the Gap, presumably getting in some last-minute purchases ahead of her three-week tour to Australia and New Zealand with her husband and Prince George. 
A rep for the Gap tells E! News, "We were delighted to serve the Duchess of Cambridge at our Kensington High Street store yesterday," although the spokesperson would not comment on the brunette beauty's purchases.
Will, Kate and Prince George's trip will commence on April 7 in Wellington and will end on April 25 in Canberra.
The Duke of Cambridge and Kate will bring their son, his first public appearance since his christening, to an event for new parents and their babies on April 9.
Over the weekend, Kensington Palace also released a new photo of the couple and their 8-month-old son (who has grown so much since the last time we saw him!), which features the beaming trio posing in their apartment window along with their cocker spaniel, Lupo.