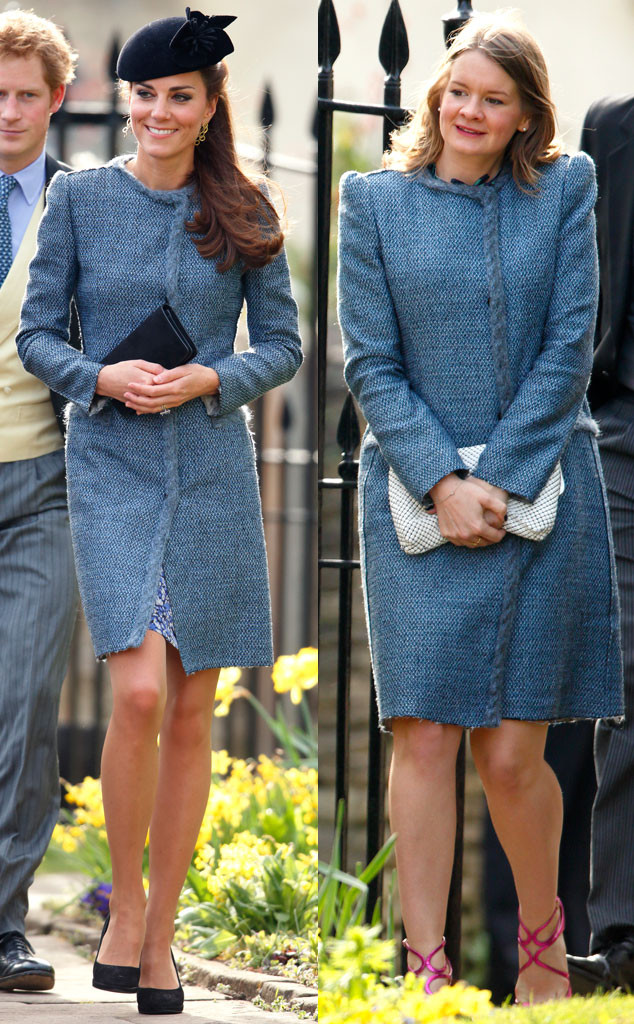 Max Mumby/Indigo/Getty Images
On one hand, the lovely woman on the right is enjoying a nice 15 minutes of fame. On the other, she attended an event wearing the same coat as Kate Middleton (we wouldn't choose the latter).
The Duchess of Cambridge, along with Prince William and Prince Harry, spent Saturday afternoon attending the nuptials of their close friends Lucy Meade and Charlie Budgett at St. Mary's Church in the town of Marshfield, in Gloucestershire, where the brunette beauty stunned in a blue M Missoni tweed jacket.
She paired the powder blue coat with a Whistles Bella frock for the formal occasion and finished the look with a fascinator, a suede Mulberry clutch, black pumps and Cassandra Goad earrings.
The only problem with her ensemble? Another guest happened to arrive at the wedding wearing the exact same jacket, which surely sent the unidentified woman either cowering in the corner with embarrassment or boasting to her friends that she happened to have such impeccable taste.