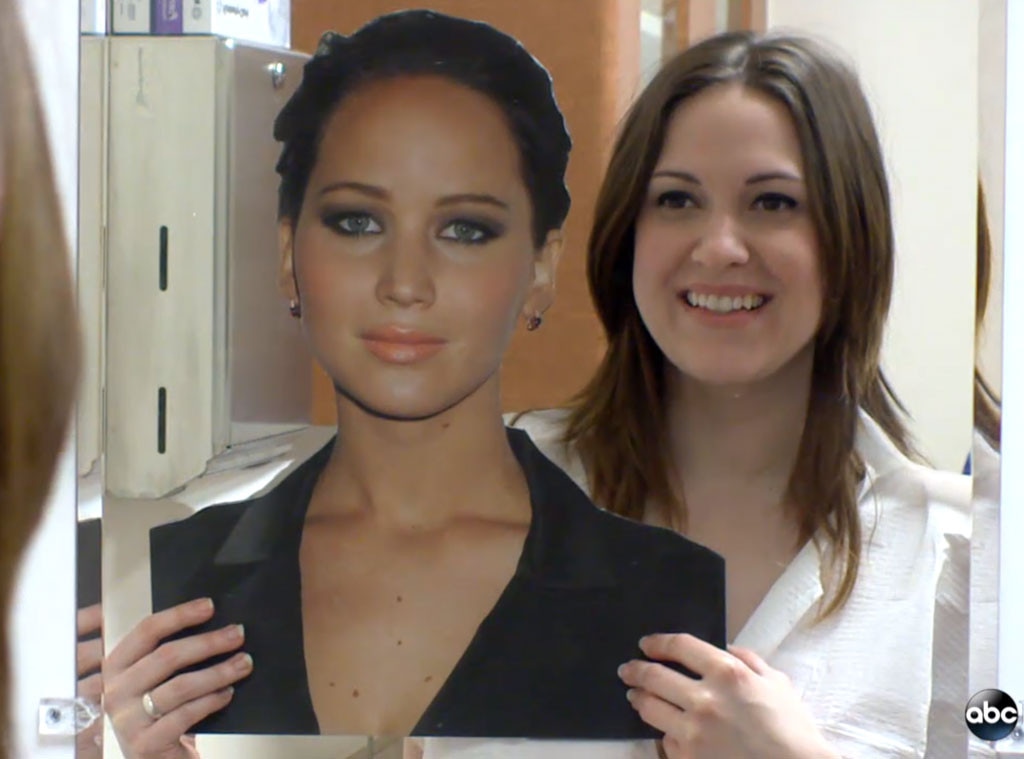 ABC News
"I don't think you have to be crazy to want to look better or feel better about yourself. That's not crazy."
No, wanting to better yourself and gain confidence is not crazy. In fact, it's quite healthy.
Dropping thousands upon thousands of dollars on plastic surgery to carve your face and body up to look like your favorite celeb? That's a different level.
The above quote is from a woman named Kitty, who underwent intense plastic surgery because she wanted to go from resembling Jennifer Lawrence to becoming a JLaw clone.
In a report done by ABC News, viewers followed 30-year-old Texas dog trainer and married mom of a five-year-old girl as she spent $25,000 (minus a discount for appearing on TV) in order to sculpt her features so she looked more like everyone's favorite actress. Kitty says that since JLaw's star has risen in the past couple of years, she's been "stopped on the streets" by people who say she looks just like the American Hustle star.
So the next logical step is to have plastic surgery. We guess?
"I am a strong woman. I am in charge of how I look and I can change that and then change that again if I want," Kitty said. "I'm not trying to look like Pamela Anderson here during her Baywatch days. I'm trying to look like a very capable, very personable, level-headed female who is an Academy Award winner."
Her list of procedures included liposuction to her body and face, breast augmentation, fat grafts to her cheeks and butt and rhinoplasty. The surgery took six hours.
This is what she looks like now:
Personal opinion: she doesn't really look like Jennifer Lawrence. She looks pretty, sure. But she was pretty before.
Ready for the kicker? Here it comes...
Kitty says the whole surgery was worth it, even though she acknowledges in the segment that she realizes that amount of money could have gone to her daughter's college fund.
"Basically the money that I had for this was money that I had saved from previous job...so it was sort of a 'me fund,'" Kitty said. "My child's only five and I'm still just barely 30, so I think I still feel like maybe it's naiveté but I still have some time to rack up some money to help her when the time comes."
Has she not seen the price of education in this country these days? Good luck to ya, Kitty.
You can watch her segment (plus a segment about a woman who wants to look like Fast and Furious star Michelle Rodriguez) below: