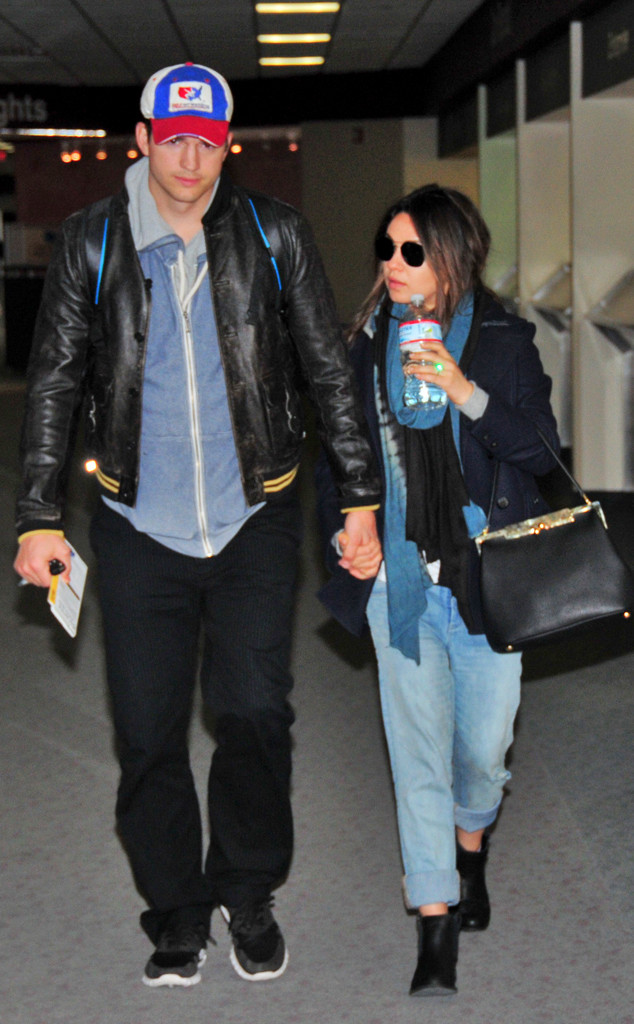 Splash News
Mila Kunis and Ashton Kutcher have a lot to celebrate these days—their engagement and baby on the way—and they are understandably spending this exciting time with loved ones.
The Two and a Half Men star and the Jupiter Ascending actress arrived in Kutcher's hometown and held hands as they made their way through the airport in Iowa.
The 30-year-old kept comfortable for the trip and layered up in a long black coat, rolled up light baggy jeans, several scarves and Timberland booties. She kept her sunglasses on as the duo walked through the terminal. The 36-year-old also went casual for the flight, sporting a light blue hooded sweatshirt, a black leather jacket and a cap.
Eric Charbonneau/Invision for Warner Bros./AP Images
Before the That '70s Show co-stars jetted out of town, Kunis made her first red carpet appearance since the pregnancy news broke at Cinemacon on Thursday in Las Vegas.
The brunette beauty posed with her Jupiter Ascending co-star Channing Tatum and looked radiant in a navy, billowy sleeveless dress.
But don't expect Kunis to be spilling the beans about impending motherhood.
"She is so private she probably won't ever talk about it—at least not publicly," a source tells E! News. "She and Ashton don't want to share this with the world. They've been like that for their entire relationship. Ashton knows what it's like having a very public relationship and doesn't want it again.
Another source says that the handsome couple just recently started sharing their baby news with family and friends. "They kept it a secret as long as they could," the source said. "But obviously, she's been started to show so it was just a matter of time in recent days."