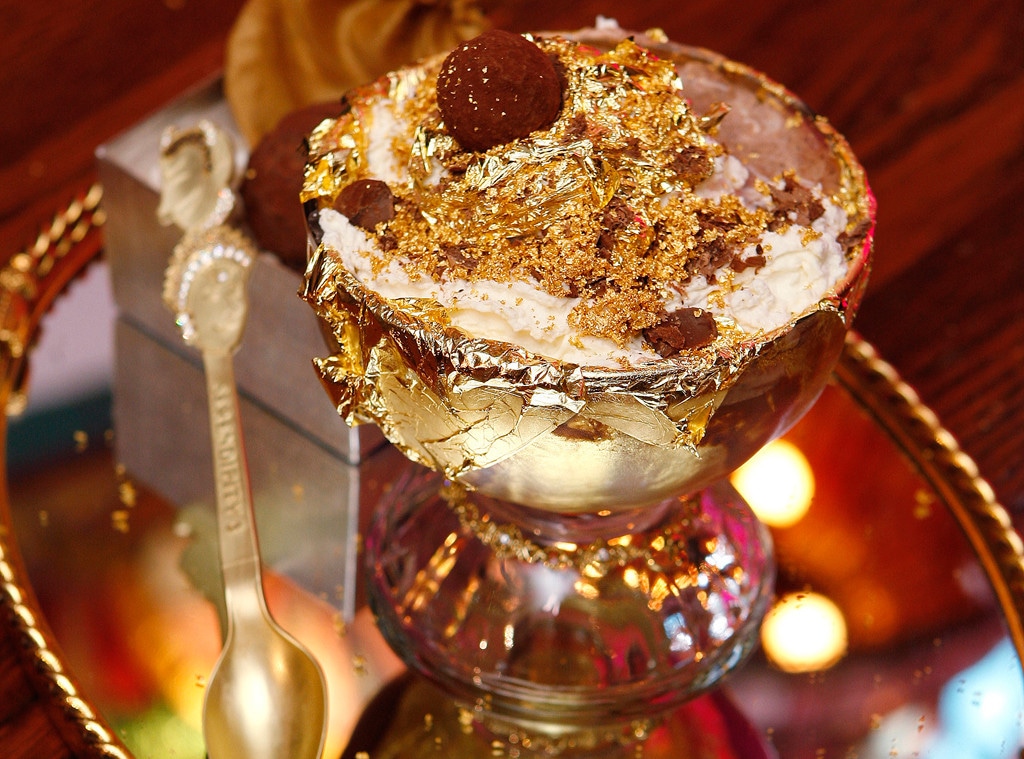 CHIP EAST/Reuters /Landov
Would you pay $25,000 for dessert? What about $5,000 for a burger?
Believe it or not, these super expensive meals exist, along with several others, and are considered to be the priciest dishes around.
From Arnaud's in New Orleans to Serendipity 3 in New York City, Check out the restaurants that serve up five of the most expensive foods in the world!
STEVE MARCUS/Reuters /Landov
1. $3.95 Million Strawberries at Arnaud's in New Orleans: How could a bowl full of lush strawberries, French vanilla ice cream, mint, port-red wine sauce and whipped cream be worth millions? The secret is in its luxurious accompaniment—a 7-carat pink diamond ring by MS Rau Antique. This proposal package went up from its original $1.4 million price tag after the 4.71 carat ring it was famous for was no longer available. "Needless to say, it's our worst selling dessert," Arnaud's co-owner Katy Casbarian told Eater.com.
2. $25,000 Frrrozen "Haute" Chocolate at Serendipity 3 in New York City: This high-end version of the restaurant's Frrrozen hot chocolate was declared the world's most expensive dessert in 2007 by Guinness World Records. As for what makes it so expensive, in addition to the cocoas, frozen milk and whipped cream it's made with, five grams of 24-carat gold are mixed in, and it's garnished with La Madeline au Truffe (a truffle flown in from France), according to the New York Times. It's also served up with a gold spoon and in a goblet surrounded by a gold and diamond crown.
3. The $14,500 Fortress Stilt Fisherman Indulgence at The Fortress Resort and Spa in Sri Lanka: This decadent fruit-infused dessert is served up with an 80 carat aquamarine stone, and includes a gold leaf Italian cassata (a traditional Sicilian ice cream cake) flavored with Irish cream, mango and pomegranate, according to the Richest.com. It even comes complete with a handmade chocolate carving in the shape of a local stilt fisherman. 
4. The $5,000 FleurBurger 5000 at Fleur in Las Vegas: Top Chef Masters' Hubert Keller whipped up this creation in his Las Vegas' Mandalay Bay restaurant Fleur de Lys in 2011, according to Delish.com. The wagyu beef and foie gras burger patty is topped with truffle sauce and shaved black truffles and served on a brioche truffle bun. It's also accompanied by with a bottle of 1995 Chateau Petrus Bordeaux, which generally costs about $2,500 a bottle, and Ichendorf glasses, which you get to take home. Those who purchase this big-ticket meal also leave with a certificate of authenticity to prove they forked over the cash for it.
5. The $2,420 White Truffle and Gold Pizza at Margo's in Malta: Who needs a slice of a pepperoni from a neighborhood eatery, when you can feast on this? Rather than top this pizza with the typical toppings, this pie comes complete with truffles flown in from Piemonte, organic water buffalo mozzarella and a 24K gold leaf. Patrons who actually want to pay up for this one have to let the restaurant know a week in advance, and it's only available when the truffles are in season from October to May. "This is not just a pizza; this is a sign from God telling us how great She is," the menu says of the dish.