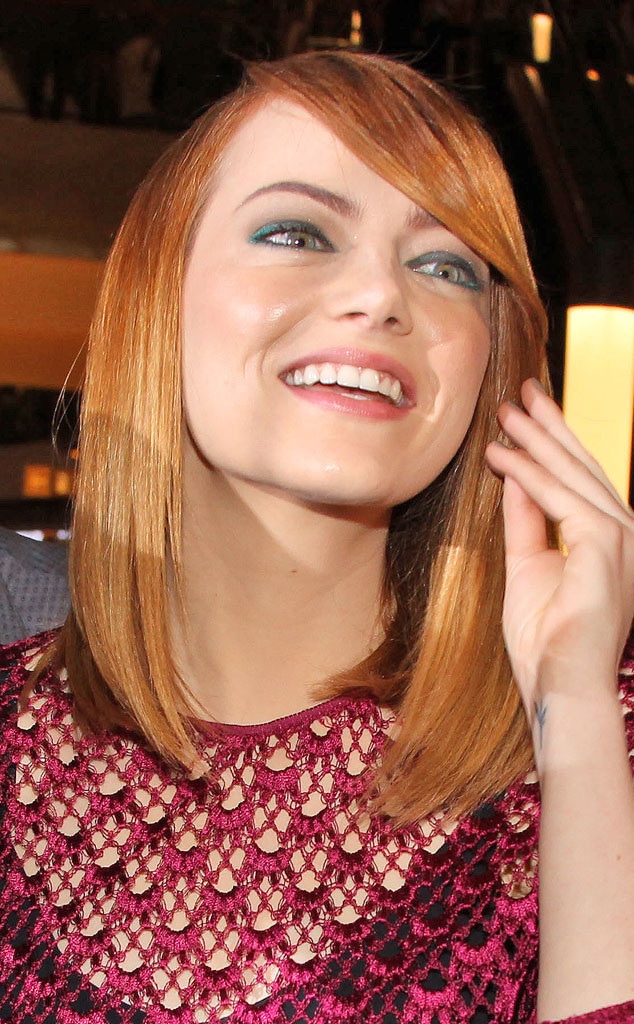 Andrew Goodman/Getty Images
If you've ever asked a makeup artist or salesperson at a makeup counter, "What color eye makeup should I wear?" 99% of the time they've probably said, "Go for the opposite end of the color wheel to bring out the color in your eyes."
Emma Stone demonstrated that she is obviously not afraid to color outside of the proverbial lines when she showed up to The Amazing Spider-Man 2 Singapore Fan Event with bright green smokey eyes.
Screw color wheel convention! Look at those sparkling green eyes!
Not only did the 25-year-old actress's eye makeup look stunning but her porcelain skin literally glowed. With just a sheer peachy coral glow to her cheeks and a highlight along her cheekbones, the redhead was the poster child for why it pays to stay out of the sun.
Try the Look: To get Emma's bright, even-toned skin, start by applying an enzyme mask like suki resurfacing enzyme peel to exfoliate dead layers and make skin appear more luminous. Then, apply a radiance-boosting moisturizer like Fresh Lotus Youth Preserve Radiance Lotion.
Once your moisturizer has absorbed, apply a primer like bareMinerals PrimeTime BB-Primer-Cream Daily DefenseBroad Spectrum SPF 30 to help blur fine lines and pores and ensure your foundation lasts. Then, apply your foundation with warmed fingertips or a foundation brush.
Next, hide any darkness under the eyes and redness around the nose with concealer. To get Emma's glowing cheeks, tap on a peachy coral cream blush like Revlon Cream Blush in Coral Reef to the apples of your cheeks. Blend in a circular motion.
Add extra highlight to your cheeks with a natural-glow highlighter like RMS Beauty Living Luminizer. Apply by tapping from the center of the apples of your cheeks upwards towards your temples. Blend with fingertips in a fluid motion.
Next, prep eyelids with primer or concealer. Brush on a matte cream or flesh-colored powder eye shadow on the entire upper eye area. Then, with a small eye brush, apply a shimmering green eye shadow like NARS Shimmer Eyeshadow in Bavaria generously to the upper lash line. In a back-and-forth motion, blend eye shadow upwards towards your crease.
Now, using an eyeliner brush dipped in the green eye shadow, line your entire lower lash line. Next, with the small eye brush, create a V-shape with the outer corners of your creases and the outer corners of your eyes, blending outwards. Add extra definition to this look by lining upper lash line and inner rim with green or black eyeliner. Finish with two to three coats of mascara.
Complete this look by applying a creamy sheer rose-colored lipstick like Clé de Peau Beauté 'La Boheme' Enriched Lip Luminizer.
We have to say that Emma Stone on a red carpet just screams "springtime." She knows how to rock the fun colors and we love that the actress's hair seems to be getting redder and redder. She makes us all want to go out this weekend and buy green eye shadow and dye our hair crimson. Okay fine, maybe we'll just buy the green eye shadow. Baby steps…