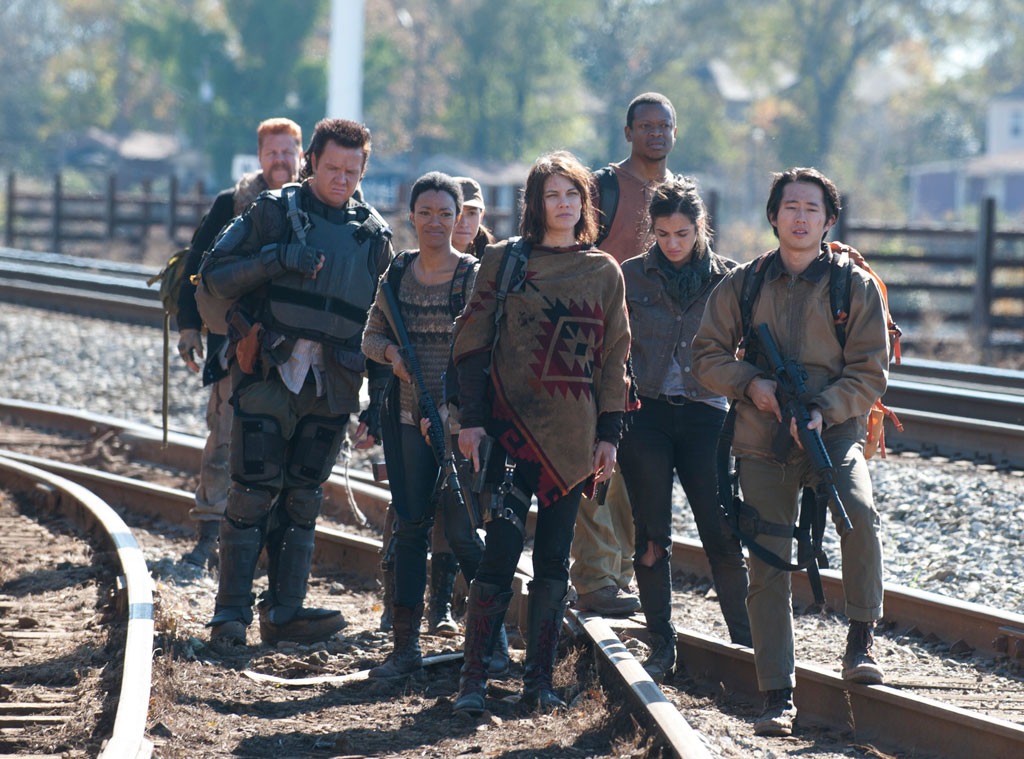 Gene Page/AMC
"Those who arrive, survive."
Welcome to Terminus, Walking Dead fans. For months, we've been hearing of this sanctuary that claims to be a safe-haven for all those who make it past the zombie-filled, post-apocalyptic world and into their gates. However, as we've seen throughout the past four season on AMC's high-energy thriller, nothing is as good as it seems.
Like all TWD season finales, tonight's hour, entitled "A," promises to be a bloodbath of jaw-dropping, heart-pounding and "Holy crap, I can't believe they just did that!" moments. To get you psyched for all the walker-infused drama, we've snagged you an exclusive finale poster featuring everyone's favorite crossbow-wielding badass.
In tonight's highly anticipated season four finale, half of our disconnected characters have already arrived in Terminus' flower-filled courtyard, and while we wait for Rick (Andrew Lincoln), Michonne (Danai Gurira), Daryl (Norman Reedus) & Co. to join them, we know one thing for sure: it's going to be a fight for survival.
Since Beth is still MIA, Daryl has been traveling with the violent and short-fused group of marauders—the same dangerous men that Rick battled with in their once upon a home. As of last Sunday's hour, it's clear that the marauders have been tracking Rick in hopes of enacting revenge for the man that he killed.
It's obvious that Daryl's loyalties still would be to Rick and the rest of the prison gang, but just how far is he willing to go to protect his post-apocalyptic family? As executive producer Robert Kirkman  said in a Reddit AMA last week, "In my opinion, I feel like characters ripen like fruit. So while I wouldn't say the more popular a character is the more likely they are to die, they do have to reach a certain level of popularity before they've 'earned' the death. No character is too popular to die. (Suck it, Reedus!)" Nooo!
The Walking Dead's season four finale airs tonight at 9 p.m.