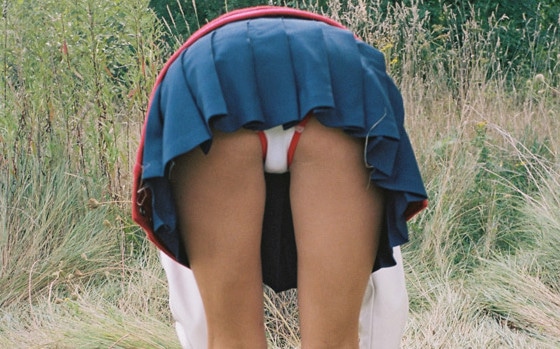 American Apparel
American Apparel wants you to buy their skirts. But they don't really want to show you what the skirts look like, so they'll just show you what their skirt would look like when you wear them and bend over. That's the same, right?
No, it's not. At this point we might prefer the Photoshop hacking job that gave this Target models a rhombus vagina.
The picture above is not from a racy photo shoot, nor is it from a website dedicated to displaying upskirt photos (ugh, we bet a website like that does actually exist). The picture above is from the American Apparel website, and it's supposed to advertise their miniskirt line. But we're not really paying attention to the skirt part of this photo. Are you?
We don't know why we're so shocked, as this website also has a GIF of a topless woman jumping up and down as she struggles to get into jeans. This GIF might distract some of you, but please remember to keep scrolling past so we can discuss the miniskirt photo some more.
We absolutely expect American Apparel ads to be quite sexualized, as they have long been known for their borderline (sometimes straight-up) pornographic depiction of women. And even if the skirts are too short for our taste, if you want to wear them, that's your prerogative. The reason why we think this photo is so creepy (besides the obvious) is that there are 20 different ways to showcase the skirt in a sexy way that doesn't involve a girl bending over. In fact, we don't really know what that skirt looks like, because all we can see is what's going on underneath the skirt. And that is what makes our skin crawl.
Is the intention of the ad to assure women that if you bend over in this skirt, people will see your underwear-clad nether regions? Because usually that puts a skirt we are considering purchasing in the "con" category. In fact, we usually bend over when trying on skirts solely to make sure that we don't get the result of this photo. So…what's the point of this ad? Oh, that's right. There is no point besides: "Here is a woman bending over in a skirt."