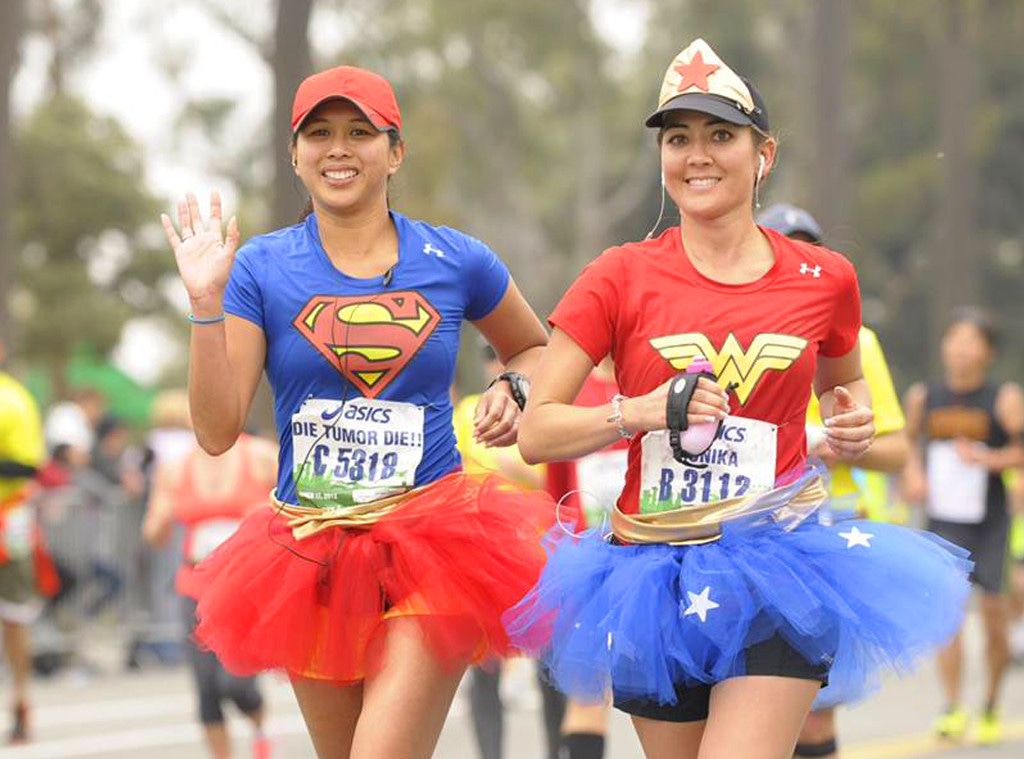 Facebook/Glam Runner
When brain cancer survivor Monika Allen ran the Los Angeles marathon donning a brightly colored tutu, she didn't think she'd be the butt of a joke in Self magazine, of all places.
Monika wore a Wonder Woman costume and a tutu (which she makes herself and sells), to raise awareness for her company Glam Runner, which raises funds for charities that empowers young girls.
Unfortunately, Self ran an image of Monika in her tutu in its April issue under its "BS Meter" putting the trend of running in tutus in the "Lame" column.
The caption alongside the image read: "A racing tutu epidemic has struck NYC's Central Park, and it's all because people think these froufrou skirts make you run faster. Now, if you told us they made people run from you faster, maybe we would believe it."
The magazine contacted Monika before they ran the issue, getting her permission to use the photo. Of course Monika assumed it would be used in a positive light and not featured under the "Lame" column.
On Self's Facebook page today, posts like "5 Foods That Fight Belly Bloat" are eclipsed by readers voicing their outrage about the picture. A thread about the Monika photo has already amassed over 7,000 comments.
Once it became clear to Self that they had made a mistake, editor-in-chief  Lucy Danziger issued a statement apologizing.
"I am personally mortified," Danziger told USA Today. "I had no idea that Monika had been through cancer. It was an error. It was a stupid mistake. We shouldn't have run the item."
Danziger is in the process of personally reaching out to Monika herself, and she plans on giving to her charity. 
This isn't the first time Danziger has had to address a Self folly. In 2009 the mag landed in hot water after running a Photoshopped image of Kelly Clarkson on its cover. After getting flack for the digitally-slimmed Clarkson, Danziger wrote a post on Self.com admitting to Photoshopping, but stood by its decision. "Yes. Of course we do retouching," she wrote. "Did we alter her appearance? Only to make her look her personal best."
The upside to this whole mess? Monika has received a flood of orders for her tutus on Glam Runner. You can purchase one here.