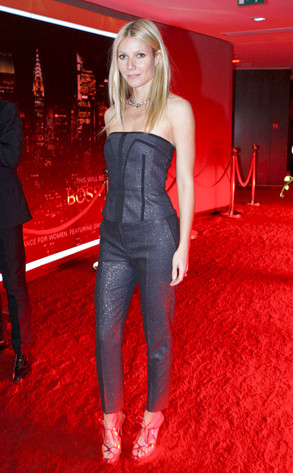 Rex Features via AP Images
After announcing her separation via Goop Tuesday, Gwyneth Paltrow broke her silence regarding the breakup via her own lifestyle website early Friday morning. After writing a short paragraph in relation to chicken recipes, she told readers, "P.S. CM and I in deep gratitude for the support of so many."
Oscar winner Paltrow, 41, and Coldplay frontman Chris Martin, 37, are currently hiding out in the Bahamas with their daughter Apple Martin, 9, and son Moses Martin, 7. The "Paradise" singer has yet to publicly comment on the end of his 10-year marriage, though his father has spoken to the press.
Retired accountant Anthony Martin, 72, told The Mirror that while its "sad and upsetting" that his son is now single, he insisted—as the former couple has also said—that they are "still great mates." In fact, Anthony said, "If you are married you know you have good days and bad days. We all have our ups and downs. It is sad because there are our two grandchildren. But it is all very amicable between them."