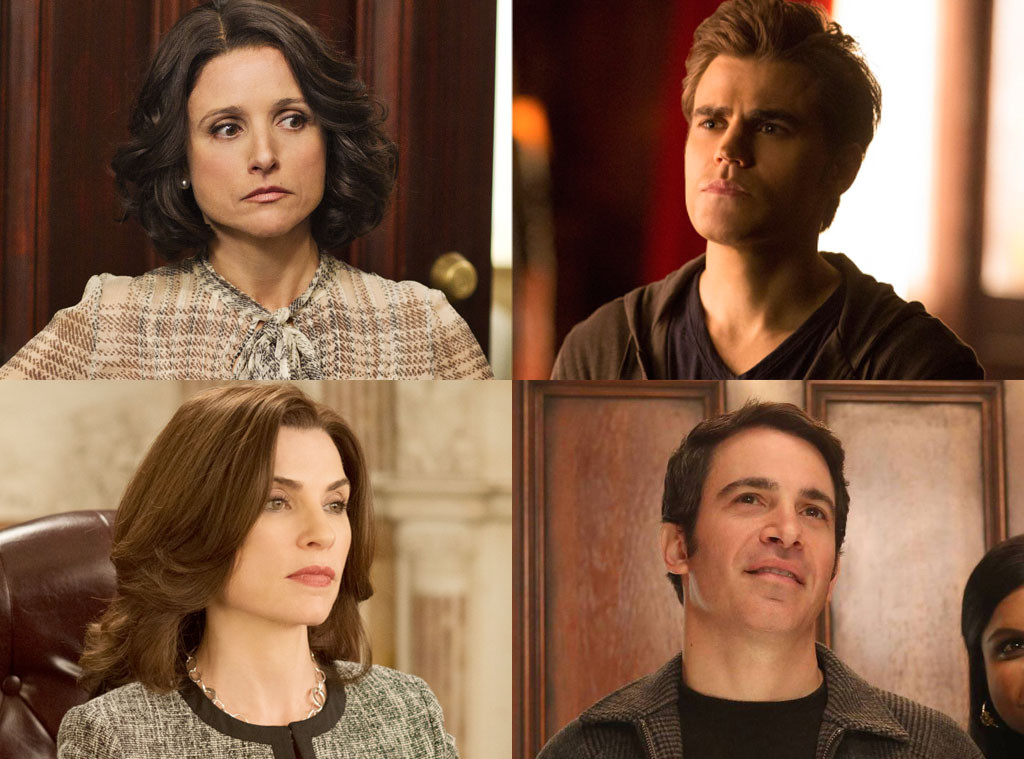 Everybody's working for the weekend. Why? Because there's so much good TV on then! To tide you over until Sunday and the next week of wondrous TV offerings, we've got the latest (and best) spoiler scoop for you!
We've seen some big episodes—*cough* The Good Wife, Veep and The Mindy Project *cough*—and have so much to share with you.
Read on for scoop on those three shows, Reign, Community and more! It's the best way to start the weekend.
Jacqui: Any TVD goodies to share?
Paul Wesley's favorite scene in his directorial debut? A Matt scene! Go on, feel some bromantic feels. "There's a scene between Matt and someone else that I can't name and there's a whole sequence and it's a beautiful sequence," he spills. "It's very action-packed. I really enjoyed it."
Melissa: So excited for The Mindy Project's return! Dying to know how the office will react to Danny and Mindy's kiss?
It's mixed. Xosha Roquemore spills, "Tamra is kind of in her own world. She thinks her problems are more important, but she thinks they're a match made in heaven. They're both old, they're both rich doctors." As for Jeremy, their co-boss, Ed Weeks says, "He cares about them both a lot of as people, so his worry would be about whether it's going to work out between them. And also, as the de facto boss of the practice, how it's going to affect office dynamics."
Neil: Where my Veeple at? What's up with the biggest a-hole in DC, Selina Meyer, on the new season of Veep?
Your Veeples are right here! We open the season with a surprise wedding and the vice president is on a book tour. And there's a surprise firing!
Victoria: I'm still crying over The Good Wife and next episode is going to be worse?! How is that possible? Got any scoop?
You should be OK with one box of tissues and one bottle of wine. "The Last Call" deals with not just Alicia's reaction, but how everybody connected to Will deals with his tragic death. The title deals with the last call Alicia got from Will and her quest to find out what he wanted to tell her. It's tragic, but there are a few laughs in there and some Kalinda/Alicia moments. It's going to be OK!
Luke: Reign is insane right now! What's ahead?
More family drama is coming! "You will see some family members," of some of the characters Anna Popplewell dishes, though she notes no one from Lola's fam has been introduced since her wayward brother.
Meghan: It's been too long since you've given us scoop on Community! Make it up to us, Human Beings!
Prepare to meet your new favorite trio on the show: "The finale is awesome," Danny Pudi gushes. "For me, I was excited to work with Jim Rash and Alison Brie, us three go on this side adventure that turns into a group adventure." Now taking any fun group names for Abed, Annie and Dean Pelton!
Jeaneen: Any spoilers on Avery and Juliette on Nashville? They're my favorite couple on the show now!
Sorry, but there are rocky waters ahead for Juliette and Avery after he is all too quick to be there for a struggling Scarlett (along with her mother, who we'll meet very soon). The good news? It looks like Juliette will actually be the mature one in this sitch. Our girl's growing up!
GOT TV QUESTIONS? Tweet them to @kristindsantos with hashtag #spoilerchat!
SPOILER CHAT comes out every Monday, Wednesday and Friday at 9 a.m. ET/6 a.m. PT. Bookmark the link!