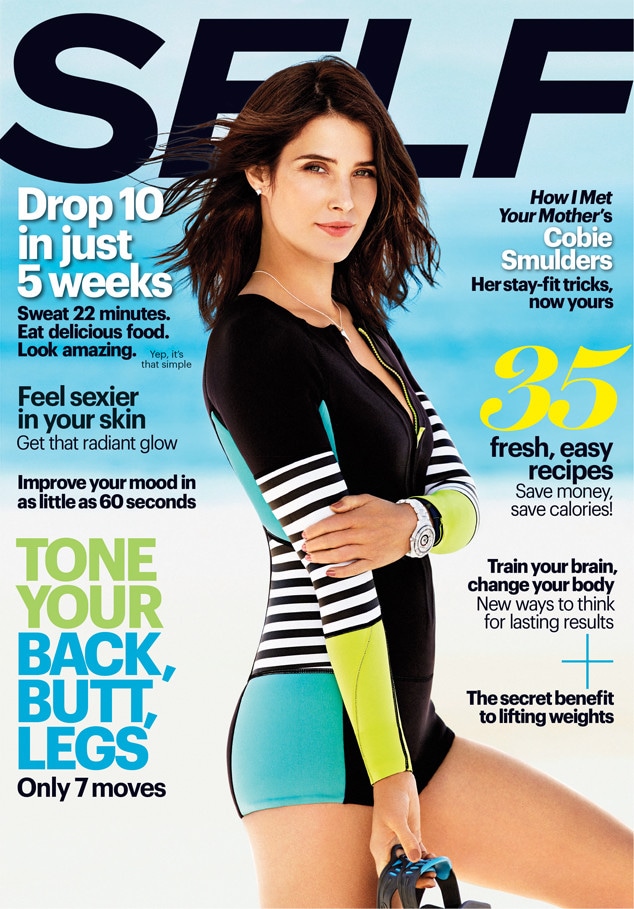 David Gubert for SELF
While Cobie Smulders may be best known for smoldering on the silver screen as Robin Scherbatsky on How I Met Your Mother, in reality, the actress has a very laid-back approach when it comes to maintaining her enviable figure.
And her take on diet and exercise is incredibly refreshing in the fitness-obsessed world of Hollywood, as the 31-year-old stunner admits in the latest issue of Self magazine, "I've never been the person who's like, 'I've got to get a four-pack of abs!'"
But that doesn't mean the brunette beauty, who is married to SNL star Taran Killam, doesn't make her health a huge priority. So how does she maintain her stunning frame? It's all about moderation, according to the CBS star.
"I know my body's limits. I've never enjoyed Spin classes, where they're like, 'Push it further!' I'm like, 'No. If I pull something, I can't work tomorrow,'" she tells Self, while looking stunning on the cover. "That's why I gave up Bikram yoga. One day I basically found myself in a split, and I was like, 'Oh! I'm so flexible!' The next day: 'I can't move.' So I started doing Yin yoga. It's 90 minutes of intense stretching. You hold each pose for five minutes. It's a stress reliever. The warrior poses are great for building muscle."
The brunette beauty tells the mag she tries to "take an exercise class twice a week" and revealed that her favorite workout is The Bar Method because "I'm not a sweaty mess when we get to my favorite part of class -- the end."
She also takes a similar approach to her diet, eating healthy while also indulging in her favorite foods from time to time.
"My usual day: a green smoothie for breakfast -- if I want to get fancy, it's eggs on arugula -- fruit for a snack, a salad with protein for lunch, and fish and quinoa for dinner," she said. "I'll have pasta two out of seven meals. And if I have 3 bites of my husband's mac & cheese, I don't kill myself! I just slowdown and enjoy it, instead of shoveling it in my face."
As for her beauty regimen? The actress treats herself to a facial every few months, which she says is like "getting your car washed" and she also swears by her Clarisonic exfoliating brush.
"It sounds and looks like a sex toy, so when I use it, I'm like, 'I'm doing something for my face, honey! It's for my face!'" she says.
And her fearless and laid-back take on life has led to find true happiness.
"When I was younger, my life was about getting to the next level. 'If I just get another season of this show, it's going to be OK'…But I've learned if you package your happiness with if-only goals, you'll never really be happy. There's always something more you'll want. So, now, I just try to stay present and remember how awesome I have it."
Wise words, girl.