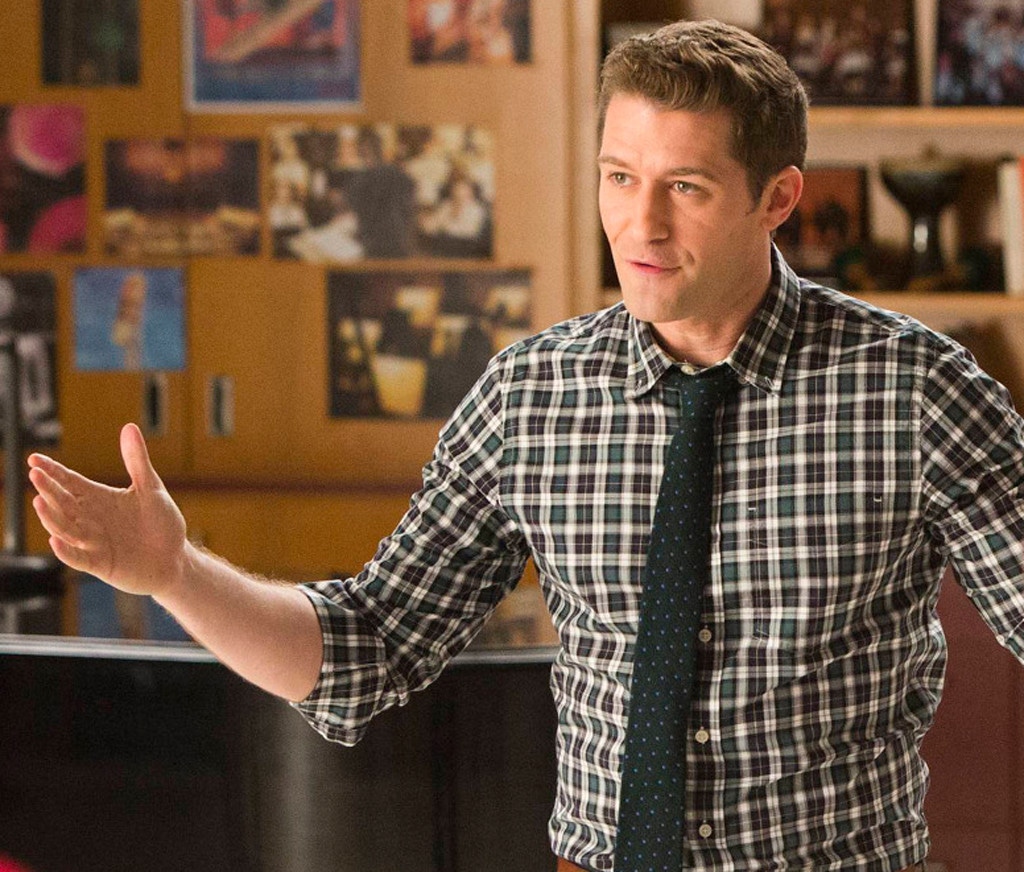 Adam Rose/FOX
William McKinley's glee club is no more.
Now that our tears have dried and the tissues are gone, we're left with one heart-sinking question: Was that the end of Mr. Schue's (Matthew Morrison) time on Glee?!
On Tuesday night, Glee gifted viewers with a heartfelt farewell in the second part of their 100th episode celebration. In the final few seconds of the nostalgia-filled hour, Will sat alone in an empty choir room, reflecting on the happy moments that once filled the air, and all the lives he positively influenced over the past four years. With one last bow and a flick of the lights, Mr. Schue walked out of the room, signifying the New Directions' official ending and the beginning of Glee's next chapter.
As you all should be fully aware, the musically inclined series is making a dramatic setting shift and will now solely focus on the New York City storylines. Many of the show's stars have already successfully made the move to NYC, and now recent WMHS graduates Blaine (Darren Criss), Sam (Chord Overstreet) and Artie (Kevin McHale) will join their fellow New Directions alumni in the Big Apple. (In case you missed it, check out our Glee in NYC Role Call!)
However, many fans are wondering what will happen to those left back in Lima, specifically with Will and his newly pregnant wife, Emma (Jayma Mays). And the answer is…they don't know either!
"I don't, I honestly don't," Morrison recently admitted to E! News' Kristin Dos Santos on the Glee set. "I think I'll be there in the end in some way, whether it's the whole season or just the final episode, I think I'll be back." The 35-year-old actor added that although his time on the hit series has been 'incredible," Morrison is "looking forward to new challenges" in his career.
As for everyone's favorite OCD guidance counselor, Mays revealed on Chelsea Lately that she does not expect Emma to show up in Glee's sixth, and most likely final, season. "They could kill her off, I'm not really sure," the actress joked with host Chelsea Handler. "She has obsessive-compulsive disorder on the show so she could like sanitize herself to death, so she could just rub all her skin off." Yikes!
On a more serious note, the redheaded actress dished exclusively to E! News at Glee's 100th episode celebration that she hopes to see more of Emma's pregnancy. "I actually don't know what's in store for them, although Emma is pregnant, so I imagine that will be their storyline," she said.
So let's get to the goods: What could this Wemma baby look like?! Clearly it will have adorable bushbaby eyes and impeccable dancing skills. Mays laughed, "We'll see if it's ginger or no ginger, because it's ginger roulette with us redheads, but maybe a sweet curly haired baby. That could be nice." Nice? More like absolutely wonderful!
Check out the full interviews with the Glee stars below to find out even more exclusive details on the fate of their characters and what's next for the Fox series.
Watch:
What's Next for Matthew Morrison?
Glee airs Tuesdays at 8 p.m. on Fox!