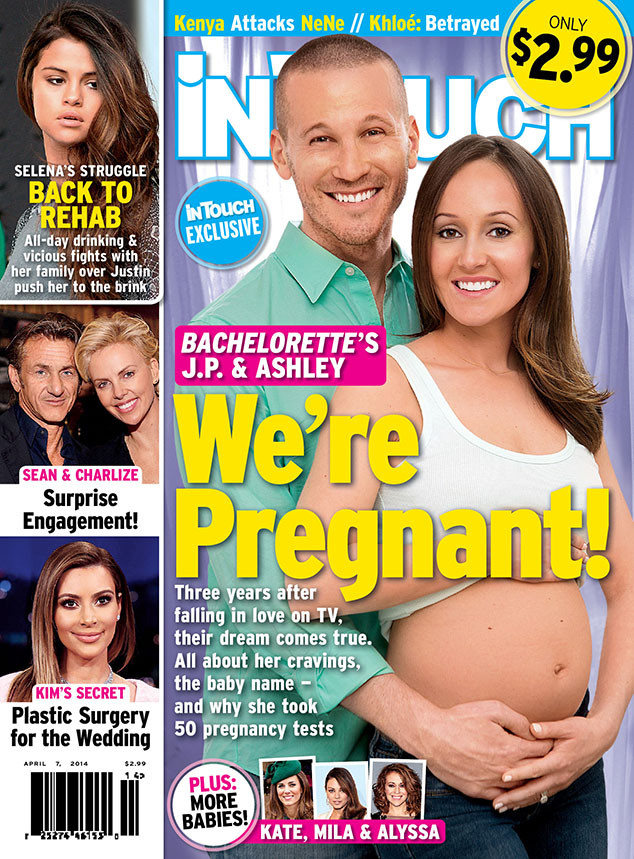 InTouch
Bachelorette couple Ashley Hebert and J.P. Rosenbaum are expecting their first child together!
Hebert is three months along and due in October. "I'm a little nervous, but we're very excited," says Hebert, who married Rosenbaum in a TV wedding in December 2012. "I've wanted a child for a while."
"It's nice not to have to keep a secret anymore," Rosenbaum says. "We're beyond thrilled."
Hebert bares her tiny baby bump on the cover of In Touch's Apr. 7 issue, on newsstands now.
The spouses had tried to conceive a child for two months before learning that they were expecting at Sean Lowe and Catherine Giudici's wedding in January 2014. After a few uncertain pregnancy tests with a faint line, Hebert tried again in Santa Barbara, Calif. That time, Rosenbaum recalls, "There was legitimately a line. That's when we officially found out—of course it would be at a Bachelor wedding!"