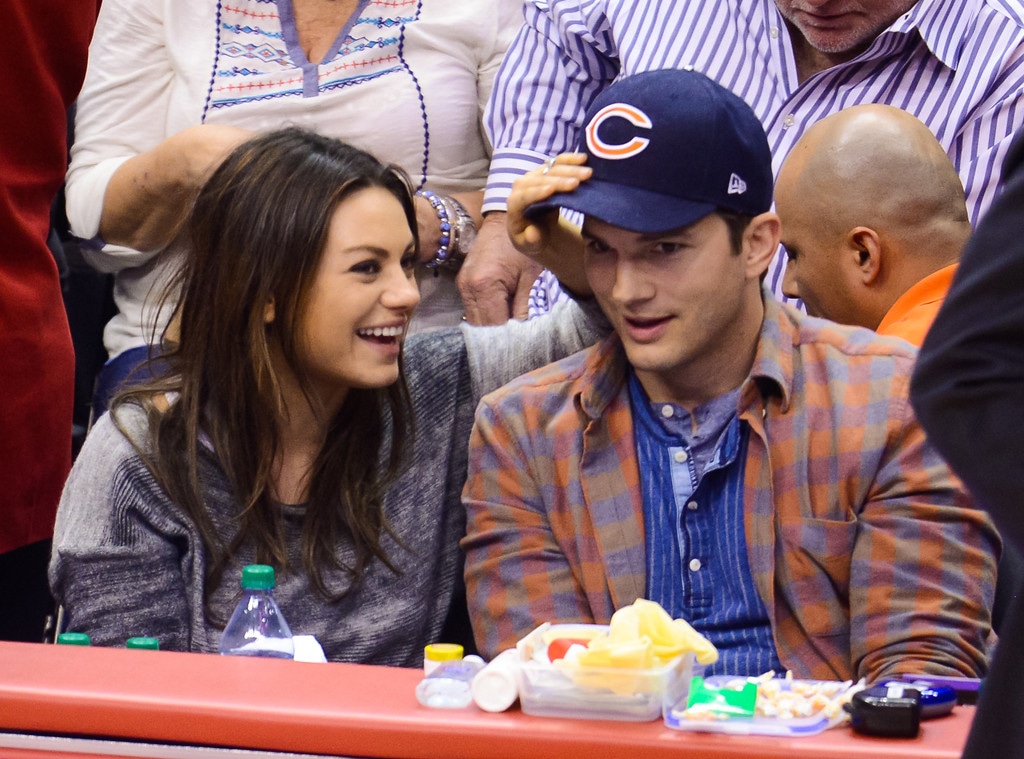 Noel Vasquez/GC Images
Ashton Kutcher and Mila Kunis' pregnancy news is still new and exciting, but their road to baby's actually been a long one!
So how, over the course of 16 years (!), did these two go from friends to future parents?! Let's take a look at Mila and Ashton's relationship timeline.
1998: Ashton and Mila first meet on That '70s Show, where they played real-life couple Kelso and Jackie for eight seasons. Adorably enough, Mila's initial onscreen smooch with Ashton was her real-life first kiss! "I was like, 'Oh, he's so cute, it's the Calvin Klein model!'" she later told People. "Then I was like, 'I have to kiss him?' I was so nervous and uncomfortable. I had the biggest crush on him." When Ashton found out, he couldn't believe it. "I'm the first guy she kissed? Oh my god, I had no idea!" he told the weekly magazine later that year. "I'm so glad I didn't know that or it would've been too much pressure."
Jamie McCarthy/Getty Images
1998-2002: Ashton dates his fair share of Hollywood beauties, including January Jones, Dark Angel star Ashley Scott, and his Just Married co-star Brittany Murphy.  
2002: Mila begins dating Home Alone star Macaulay Culkin. They kept their romance on the DL, with the actress explaining, "I keep my personal life as personal as I physically, mentally, possibly can."
2003: Ashton enters into a relationship with Demi Moore.
Sept. 24, 2005: Ashton and Demi marry in a private Kabbalah ceremony attended by close family and friends--including the actress's ex-hubby Bruce Willis.
2006: Mila and Ashton take a final bow as Jackie and Kelso on That '70s Show. Spoiler alert: Jackie ends up with Fez (Wilmer Valderrama!)
2010: Mila and Macaulay split! The pair manage to keep the news of their breakup secret until early 2011. "The split was amicable, and they remain close friends," the actress's rep said at the time.
Nov. 11, 2011: Demi releases a statement that she plans to end her six-year marriage to Ashton.
Spring 2012: Ashton is spotted spending an increasing amount of time with Mila, although the pair claim to be nothing more than platonic pals. They don't shy away from the PDA, though, and pretty soon, their couple status is undeniable!
Mariotto/Chiva/INFphoto.com
December 2012: Ashton officially files for divorce, citing irreconcilable differences.
March 2013: Demi follows in Ashton's footsteps two months later, filing for divorce citing irreconcilable differences as well.
Nov. 27, 2013: Ashton and Demi's divorce is finalized.
December 7, 2013: Mila brings Ashton as her date to brother Michael Kunis' wedding in St. Petersburg, Fla.
Feb. 1, 2014: Ashton brings Mila to his twin brother Michael's wedding on St. Simon Island, Ga. According to a source, Mila looked "like part of the family" amongst the Kutcher crew.
Feb. 27, 2014: E! News exclusively confirms Mila and Ashton are engaged!
March 23, 2014: E! News exclusively confirms that Mila and Ashton are expecting a baby. Despite rumors that the pair are expecting twins, there is only one baby Kunis-Kutcher on board.
March 24, 2014: A source tells E! News the expectant couple have just started telling friends about their exciting baby news.
No, world, you have not been Punk'd: Ashton and Mila are for-real going to have a kid!