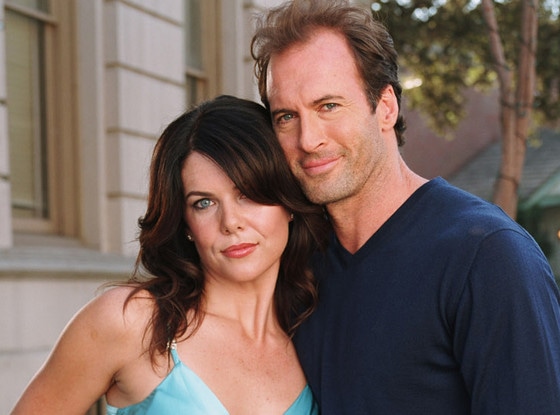 The CW
Where they will lead, we will follow...especially if it's the big screen,
After the celebrated return of Veronica Mars in movie form, fans of many other beloved TV series are eagerly awaiting news of big screen adaptations of their beloved show. One of 'em? The WB's Gilmore Girls, which wrapped its seven-year run in 2007. Now, star Lauren Graham, who currently stars on NBC's Parenthood, is sounding off on potentially taking on the role of Lorelai Gilmore, the fast-talking, witty, messy, complicated, coffee-obsessed and, obviously, perfect TV mom.
Graham's recent Reddit AMA was, of course, packed with Gilmore Girls fans curious to know if a film version, à la Veronica Mars recent, is in the works.
But first, would Graham even want to take on the role of everyone's favorite TV mom again in a big screen return to Stars Hollow?
"Yes, IF a movie version could be as good as we'd all want it to be, I'd love to play that character again," Graham said.
She admitted that she "honestly" doesn't know if there ever will be a movie, but "I appreciate how many have asked. That character was so special - I wonder what happens to her too!"
And Graham pleased Gilmore-loving fans everywhere when she gushed over her onscreen daughter, Alexis Bledel, writing, "Love her, we'll always have a special bond. Saw her in NY not too long ago. I had a nice lunch with TV mom Kelly and Amy S.P. as well. We went to Joe Allen, one of my faves."
A few other highlights?
What she misses most about GG: "I miss that writing, even though those long speeches could be a challenge."
Amy Sherman-Palladino's infamous last four words: "If I knew, I'd tell you! I'm going to ask her next time I see her."
Does she say "Oy with the poodles" in her daily life?: "Probably not nearly enough. However, I have incorporated Huzzah! Into my repertoire."
On her former roommate, Friday Night Lights and Nashville's Connie Britton: "Connie an I moved to LA together and lived in an empty house, where all I remember us eating were Rice Krispie treats. She's still a friend, but now we both have furniture!"
Thoughts on graham crackers: "I'm very proud of them, and the cereal as well."