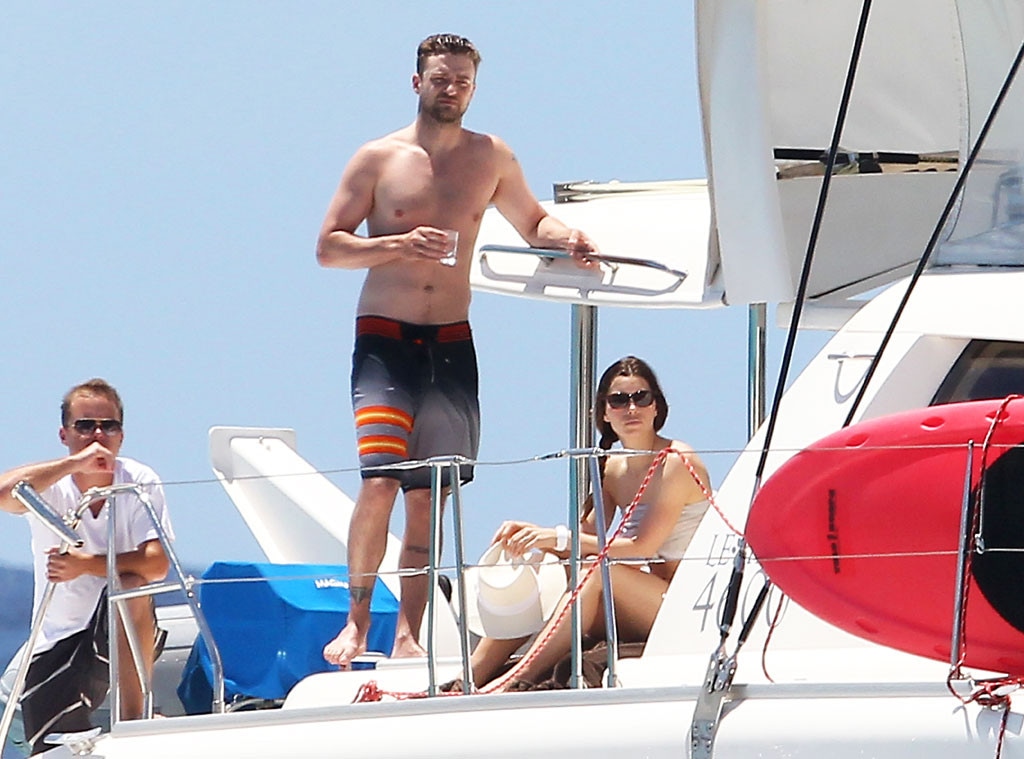 Splash News
Justin Timberlake spared no expense when it came to Jessica Biel's 32nd birthday. Eleven days after the actress' March 3 milestone, the "Not a Bad Thing" singer took his wife of 17 months to Barbados.
The celebrity couple reportedly checked into a villa near the Sandy Lane resort, where Timberlake chartered the $1,125-per-day catamaran Seaduced for wakeboarding March 14. The nine-time Grammy winner went shirtless for the excursion, while Biel bared her world-famous bikini body.
The couple spent the next day on land, playing a round of golf and enjoying a romantic dinner by the sea. Biel's birthday festivities kicked off March 3 in Miami at The Forge restaurant. "Justin and Jessica came in through the main door [around 9 p.m.], and they went directly downstairs to the wine cellar, which is private," a source told E! News of the stars, who were accompanied by Timberlake's parents.
During the dinner, the pair "kept a low profile," according to the source. "They looked happy and comfortable." Biel was served an Italian wedding cake, the source added, "because it's [her] favorite."
And yes, she got serenaded. "Justin sang a few lines of 'Happy Birthday' to Jessica," the source shared.
Timberlake, 33, finished the North American leg of his tour March 5 and will begin his bout of European concerts March 30, starting with a sold-out show at the Motorpoint Arena in Sheffield, U.K.
Biel, meanwhile, is opening a family-friendly restaurant in Santa Monica, Calif., called Au Fudge. Dubbed a "Soho House for kids" by The New York Post's Page Six, "it would be a place where A-listers would feel comfortable bringing their kids to dine and take part in cooking activities," an insider said.
The entrepreneurial star and her friend Estee Stanley have been sharing pictures of potential menu items via Instagram. "#AuFudge will be open soon to anyone with an appetite! Parents- there will be kid-friendly activities, too. Get ready!" the Total Recall actress told her Twitter followers Feb. 21.