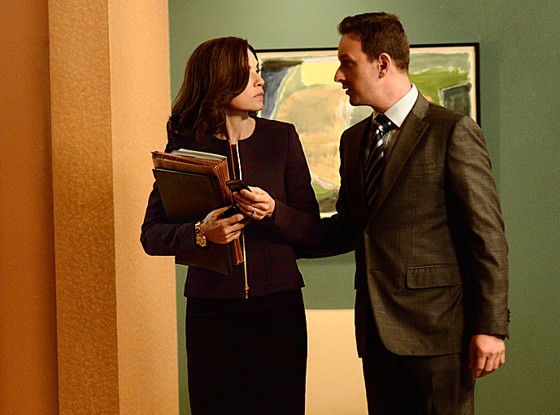 Myles Aronowitz/CBS ©2013 CBS Broadcasting Inc. All Rights Reserved
Julianna Margulies has kept one hell of a secret about The Good Wife for close to a year.
The Emmy-winning star of The Good Wife kept Josh Charles' planned exit close to her chest since season four, but now the cat's out of the bag: Will Gardner (Charles) is dead.
The Good Wife star took to Facebook to answer fan questions following the shocking episode and nothing was off the table. There are thousands of comments, but we've pored through to bring you the best and most tantalizing.
When asked if the writers told her about Will's death: "They are so respectful, they ran it by me first before bringing it to the Network, and Josh and I both thought it was a brilliant idea," Margulies wrote.
What's next for Alicia (Margulies) and Peter (Chris Noth)? "Watch, the episode following next week, Alicia comes up with the answer for her and Peter."
Will Alicia ever find love again? "I hope so, don't we all wish that for anyone who has lost a love in their life? That being said, it will take a long time."
And on that note...Will Alicia become a huge "ho" and sleep away her grief? "It's called THE GOOD WIFE! Not the GOOD SLUT!"
Many fans drew parallels between Charles' exit and George Clooney's departure on ER. Both happened in season five with Margulies' character left to pick of the pieces. When asked who was more fun to have as a love interest, Clooney or Charles, Margulies said, "I got lucky two times!!"
In an open letter to fans, The Good Wife creators Robert and Michelle King said ultimately, the show is about "the 'Education of Alicia Florrick'" and Will's death is just the latest part of her evolution. During the Facebook chat, Margulies said, "I think this death brings out a very new and different Alicia."
But what about Alicia's ultimate fate and will Margulies have a role in shaping it? "Apparently the writers told me that they have known all along where Alicia will end up, so your guess is as good as mine." Interesting...
The Good Wife airs Sundays at 9 p.m. on CBS.