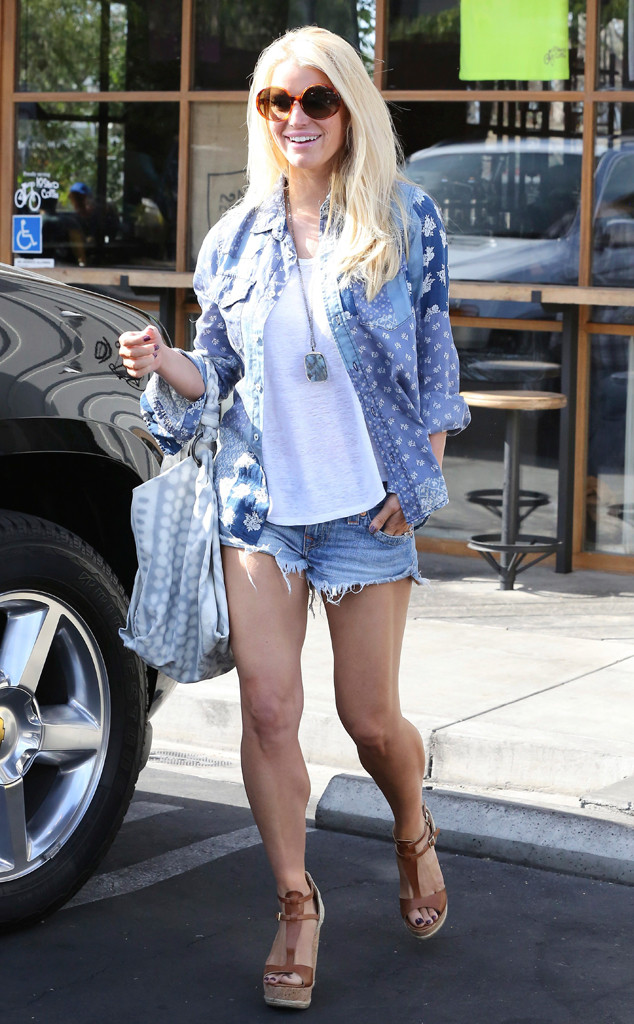 X17online.com
Look at those legs!
After reaching her goal weight just weeks ago, Jessica Simpson showed off her gorgeous gams by wearing a pair of True Religion Joey cut-offs. The Weight Watchers spokeswoman, who famously wore a pair of Daisy Dukes in 2005's The Dukes of Hazzard, looked happy and healthy at 10 Speed Coffee in Malibu Sunday. Simpson completed her look with a white tee, a printed top, wedge heels and a statement necklace.
The "With You" singer has yet to reveal exactly how much weight she's dropped since giving birth to son Ace Johnson in June 2013, but Marco Borges recently estimated that Simpson "lost somewhere between 60-70 pounds." Borges, a personal nutritionist, trainer and wellness specialist, analyzed before-and-after pictures of the engaged mother of two. "I've always recommended women give themselves six months to get back to their pre-pregnancy weight," he told E! News. "They'll typically lose the first half in about six weeks, so this gives them plenty of time to get the rest off after that."
Per Weight Watchers, a healthy weight range for a person of Simpson's stature is 113 to 141 pounds.