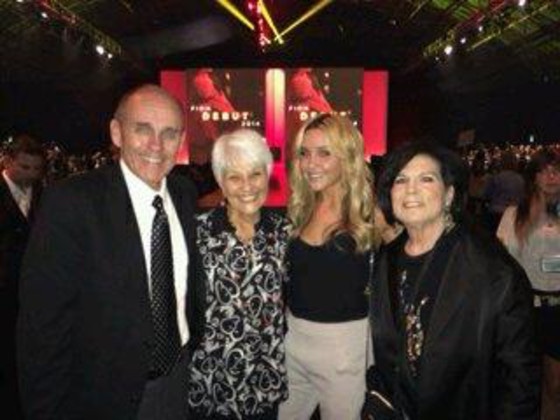 Twitter
Seeing these Amanda Bynes photos may make you want to bust out a slow clap.
The once troubled actress was looking healthy and happy in photos posted to her Twitter page from the Fashion Institute of Design and Merchandising Debut Runway Show, an event that's done each year for the aspiring student designers to formally debut their clothes in front of an audience.
Bynes flashed a big smile while wearing a stylish outfit and strutting her wavy blond locks in multiple snapshots, including one with her parents Rick and Lynn.
The 27-year-old Hairspray star successfully finished her first quarter at FIDM's Orange County campus Wednesday. "She's a great student who always participated and really cared about her classes," a source exclusively told E! News. "She really fit in and loves her school."
In fact, she plans to take more classes this April. "If she was offered an acting job anytime soon," the source says, "she may not take it because she's so focused on school."
Although Bynes went on a social media hiatus for a while, she did update her Twitter followers on March 1, writing, "Hi everyone! I'm busy studying at @FIDM but I want to say I love you to my fans!" She also shared a "new sketch" that is believed to be a self-portrait.
"Amanda's really talented at what she does so the picture is the real deal," the source said. "She's only just beginning."