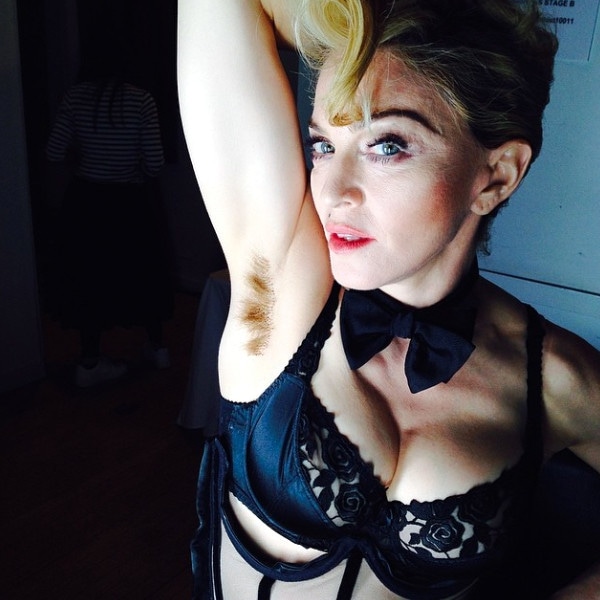 Instagram
Madonna is the ultimate nonconformist.
The 55-year-old "Turn Up the Radio" shared a selfie with fans on Instagram Thursday, writing, "Long hair...... Don't Care!!!!!! #artforfreedom #rebelheart #revolutionoflove." Though her armpit is clearly the focus, the musician also made sure to put her cleavage on display by wearing a lacy black corset.
Another Instagram caption revealed that Madonna was doing a photo shoot for L'Uomo Vogue.
Even as a teen, Madonna let her underarm hair grow. "Going to high school, I saw how popular girls had to behave to get the boys. I knew I couldn't fit into that. So I decided to do the opposite," she told Harper's Bazaar in December 2011. "I refused to wear makeup, to have a hairstyle. I refused to shave. I had hairy armpits."
"The boys in my school would make fun of me," Madonna said of being "tortured" in school. "'Hairy monster.' You know, things like that." It wasn't until her late teenage years, when she began hanging out at gay clubs, that the pop star found her identity. "Straight men did not find me attractive. I think they were scared of me because I was different. I've always asked, 'Why? Why do I have to do that? Why do I have to look this way? Why do I have to dress this way? Why do I have to behave this way?'"
The same day Madonna shared her armpit selfie, she also introduced a commercial for MDNA Skin, an anti-aging line she launched in Japan in collaboration with MTG, the nation's leading beauty company.