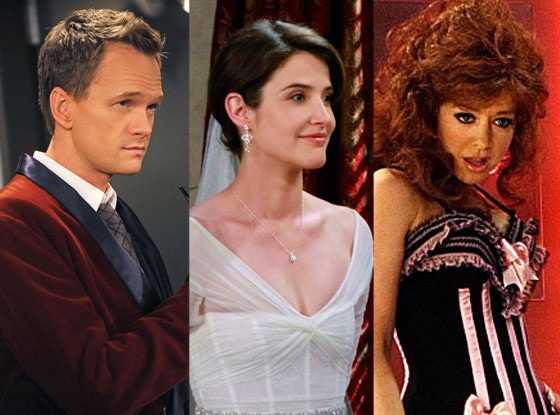 CBS
8,694.
Over the past nine seasons of How I Met Your Mother, our five beloved characters have been through an astounding total of 8,694 wardrobe changes. From ducky ties to wedding gowns, scuba suits and red cowboy boots—one woman has helped to create all of the legendary HIMYM looks from the beginning to the end.
Reiko Kurumada, who has been a part of the wardrobe team since the series' pilot, formally stepped in as the hit CBS comedy's head costume designer at the end of season six. "To have the freedom to put together amazing outfits each week with almost nine thousand outfits over the past nine years, it has just the best experience," Kurumada exclusively shared with E! Online. "I couldn't possibly narrow it down to just one favorite."
So we picked our favorites for her! With the series finale just around the corner on March 31, we chatted with HIMYM's critically acclaimed stylist to get the behind-the-scenes scoop on some of the sitcom's most iconic outfits and brotastic looks. Plus, we grilled Kurumada to spill secrets on one of the most popular conspiracy theories out there—and you won't believe what she revealed...
It's well-known that How I Met Your Mother is one of the most heavily discussed and theorized shows in television's history, however there is one speculation that had not been officially addressed. The Color Theory is one of the most creative and detail-oriented ideas that is consistently discussed in the HIMYM blogosphere.
Although the series established a early connection with The Mother (Cristin Milioti) to the color yellow (The umbrella, the little school bus, etc.), The Color Theory consistently draws parallels from the show which links Robin (Cobie Smulders) with the color purple. Many theorists also point out that purple represents anti-Mother moments, due to the fact that it is the opposite of yellow on the color wheel.
When given a brief description of the ever-popular Color Theory, Kurumada revealed, "Oh my gosh, that's really funny! I love that our viewers are that observant, but that is unfortunately not something that we did on purpose." OK, be honest: how many of you are staring at your laptops with your own version of Lily's (Alyson Hannigan) "You're dead to me!" look?
"There was one episode…a long time ago where they kind of did a [Clue] episode and they wanted all of the actors to be primarily in the [Clue] colors, but that was the only time that color has ever come up in How I Met Your Mother," she explained.
Kurumada continued, "I really and truly appreciate that our viewers spent that much time and effort, and unfortunately I hate to burst their bubble, but none of that was a conscious choice." Sorry, HIMYM fans—we guess Cobie just looks great in purple!
Diehard HIMYM fans may have noticed that each member of our McLaren's Pub fivesome seriously stepped up their fashion game after Kurumada took over wardrobe reigns. "There is a very noticeable change in style when I took over," she explained. "Our goal was to make everybody look very classy and chic—current but not trendy. It's a New York based show and we wanted to portray the timeless elegance that New York City fashion has."
Now that the hit series is coming to a close, the fashion guru remarks that is has been "an honor" to be able have this experience with such a "wonderful" cast.
"We joked that we'll miss the nudity in our room. There's always some part of the body floating around and you only get that in a wardrobe room," Kurumada laughed. "So Cobie actually, bless her heart, flashed us one last time and it brought a tear to our eyes." Wowzers!
Before we have to say goodbye to the characters that we've grown to know and love, let's take a look back at some of the series' most memorable fashion moments. Click through our gallery below for exclusive behind-the-scenes secrets on Robin Sparkles' "Let's Go to the Mall" look, Barney's (Neil Patrick Harris) most expensive suit, The Mother's huge reveal and more of your favorites!
How I Met Your Mother's one-hour series finale airs Monday, March 31 at 8 p.m. on CBS.