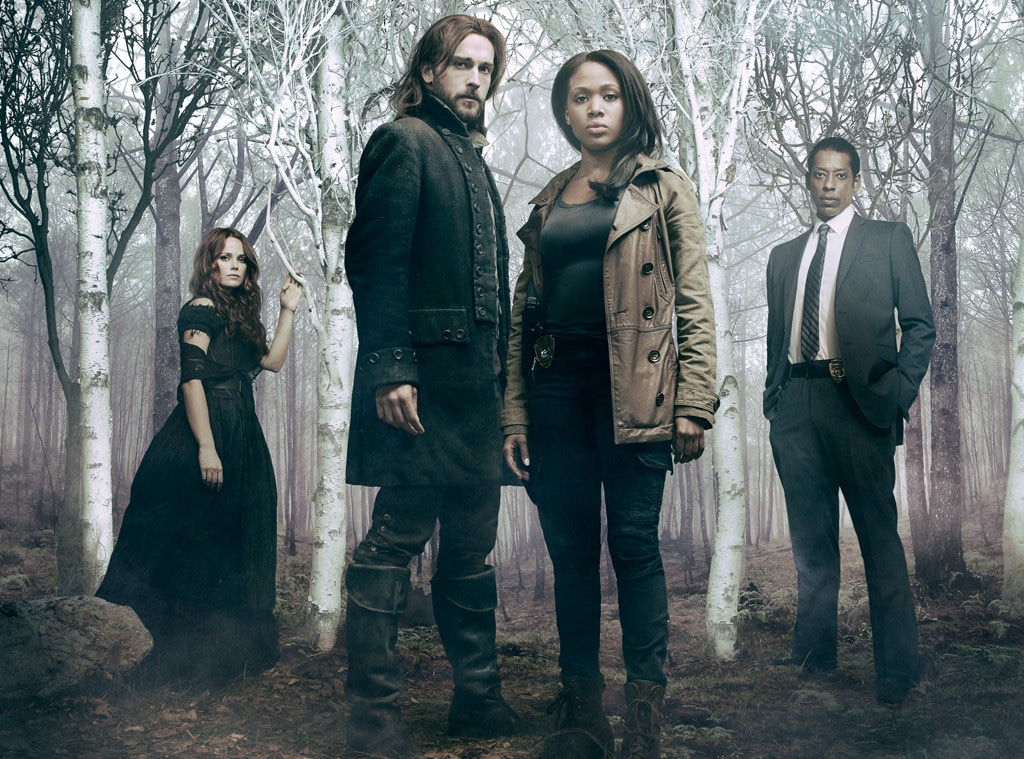 Michael Lavine/FOX
Internet, Tom Mison wants to break you.
Yes, it's true. The Sleepy Hollow star revealed his season two mission to E! News at Paleyfest on Wednesday night, even detailing just how he plans on causing Tumblr to, well, tumble, and Twitter to fall. But we'll get to that in a minute.
First, we need to worry about Ichabod (Mison) getting out of the coffin he was buried alive in by his son Jeremy aka the God of War (John Noble) in the epic season finale.
"We obviously left people in a bit of a bind next season, so I think one of the things we felt pretty strongly about was not coming up with cheap ways out of that problem," executive producer Alex Kurtzman previews of season two. Executive producer Roberto Orci adds, "We're not cutting to a year later."
So what else can we expect from season two of Fox's breakout hit?
Platonic Ichabbie: Though Ichabod is happily married ('Sup, Katrina?), that hasn't stopped a large portion of the fanbase from "shipping" Ichabbie (Ichabod and Abbie, for the newbies). "That's a term I'd never heard of before this job," Mison admits. "I had to Google what shipping meant and now I know."
And those shippers may want to brace themselves as we've learned Abbie is getting a love interest in season two. Executive producer Heather Kadin previews, "Now that Katrina's back-ish, the potential of having her there, you want to see Abbie have some hot romance, so we've talked a lot about that, which we know fans will hate."
Beharie, at least, is very excited, for this new love interest. "I asked them if I could be a part of the casting process! I want to know who he is and make sure he is tall and chiseled and strong enough for me."
However, Mison is hoping for at least one Ichabbie kiss, but purely for scientific purposes, of course: "If we end up kissing, will people be outraged? It might be worth doing it just to see the Internet break."
There's a New Sheriff in Town: Literally Orci teases, "There's a new sheriff in town. Obviously, Irving has been discredited and now he's been taken Upstate, so the Sleepy Hollow Police Department still has to be run by somebody and that person may not be as open as Irving was by the end of the season with Abbie and Crane. So somebody may be making their life very difficult."
Orlando Jones is definitely not down with the new Sheriff, even making his own t-shirt, which said, "Free Frank Irving." (Yes, he's the best.)
Mo' Episodes: Fox? Definitely loving Sleepy Hollow. So much in fact that season two will probably be expanded beyond 13 episodes. "Right now we're planning 15 and we'll see if there's even more," Kurtzman confirms.
Modern Look: While Ichabod ventured into the brave world of skinny jeans in season one, don't expect to see him rocking a new 'do anytime soon, as Mison says, "Without the hair and the coat, I am sadly nothing."
And fans should know just how much Mison endures while wearing Ichabod's wig.
"In the 90 degree heat and 90 percent humidity of North Carolina in summer, I can't tell you how nice it is to take that wig off," he explains. "One night actually, we were shooting in the forest and we took the wig off and we found five mosquitoes in the wig that had somehow found their way in and gone to town on my head and died in my wig. That's the glamour of television."
Sleepy Hollow returns to Fox in the fall.