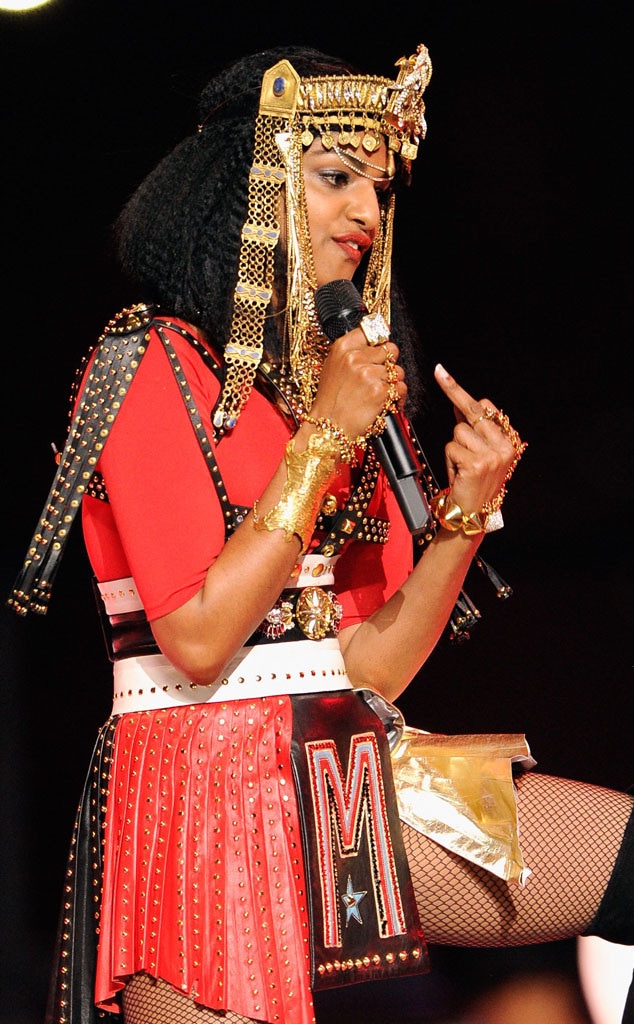 Kevin Mazur/WireImage
So, Madonna, can you help a sista out or what?
Rapper M.I.A. (real name Mathangi Arulpragasam) continues to be in a legal battle with the NFL over her impromptu gesture of flipping the bird during the 2012 Super Bowl halftime show alongside Madonna during their performance of "Give Me All Your Luvin'."
While initially seeking $1.5 million, claiming the act allegedly breached her performance contract and harmed the NFL's reputation, the National Football League is now demanding $16.6 million (!) from the English-Sri Lankan artist for her act performed nearly two years ago.
That's when she turned to her pal Madge for some help.
TIMOTHY A. CLARY/AFP/Getty Images; Jeff Kravitz/FilmMagic
The celeb jokingly tweeted, "@madonna ummm ..... can i borrow 16 million ?" (Madonna hasn't responded and chances are she's not going to back her up.)
Since the first filing back in September, the NFL has added an additional claim, seeking $15.1 million more in "restitution" for the short time she was on the screen. The figure is based on what advertisers would have paid for ads during this time. "The claim for restitution lacks any basis in law, fact, or logic," according to her response papers filed on Friday and obtained by E! News.
The celeb's response continues to tell the arbitrator that the "continued pursuit of this proceeding is transparently an exercise by the NFL intended solely to bully and make an example of Respondents for daring to challenge NFL."
M.I.A. also states in the papers that her performance pales in comparison to Michael Jackson's 1993 Super Bowl show when he "repeatedly grabbed or fondled his genitalia especially while he sang 'Billie Jean'" and also does not compare to Prince's 2007 Super Bowl Halftime show when he caressed the neck of his guitar "as if stroking an erect oversized phallus."
Dimitrios Kambouris/Getty Images
Additionally, M.I.A. has shared a document with her Twitter followers writing, "THIS IS WHAT THEY WANT ME TO SIGN , THAT IVE BEEN FIGHTING FOR 2 YEARS ON TOP OF 16 MILLION."
In September, the musician released a YouTube video accusing the league of "massive corporation d--k shaking" for demanding $1.5 million from her for giving the one-finger salute.
The "Born Free" rapper argued that if people zoom out from the photo of her and her middle finger, they'll find at least 10 to 15 African-American cheerleaders under the age of 16 that the Material Girl recruited from a local Indianapolis high school who struck very sexually provocative poses.
"So now [the NFL is] scapegoating me into figuring out the goal posts on what is offensive in America," said the 38-year-old hitmaker. "Like, is my finger offensive or is an underage black girl with her legs wide open more offensive to the family audience?"
She continued, "They want me on my knees and say sorry so they can slap me on my wrists. And basically say it's okay for me to promote being sexually exploited as a female than to display female empowerment through being punk rock. That is what it boils down to, and I'm being sued for it."
—Reporting by Claudia Rosenbaum