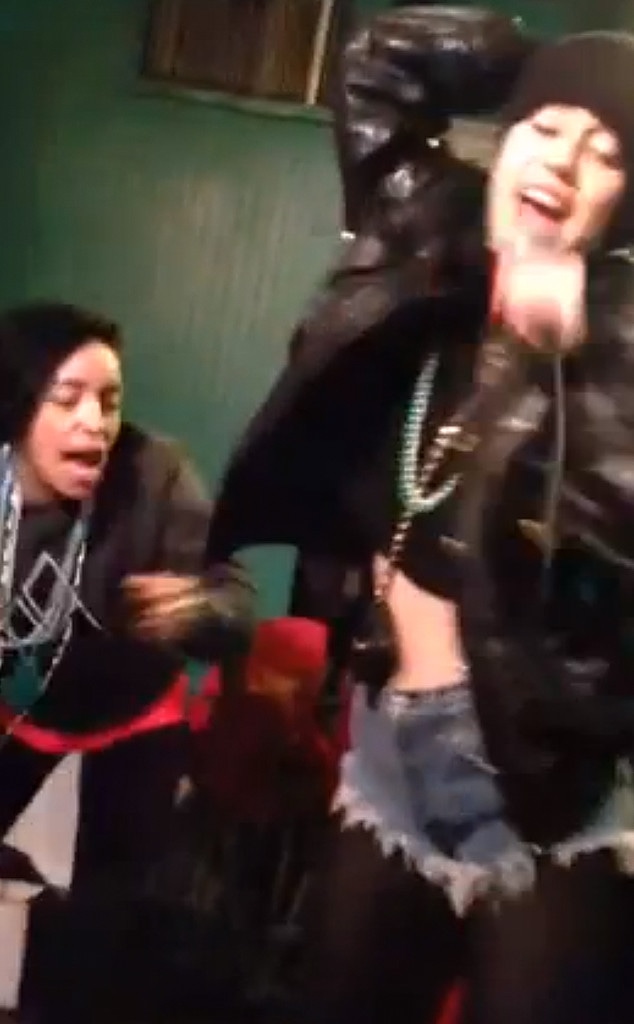 Youtube
Baby got back, all right, and she's making sure everyone knows it.
Miley Cyrus seemed to be having the time of her life Monday night while out with some pals in New Orleans celebrating St. Patrick's Day. The 21-year-old performer made a stop at Cat's Meow for some karaoke with friends, and even got on the microphone to belt the lyrics to Sir Mix-A-Lot's famous 1992 hit "Baby Got Back."
Wearing black leggings with cutoff denim shorts, a black beanie and black leather jacket (where was your green, Miley?!), the blond ball of fun danced around and did a little twerking while rapping a few lines of the song.
Surprisingly, Cyrus didn't seem to know the tune word for word (you'd think it was her anthem), but the single did come out the year she was born.
At another point of the night, the star, who was in New Orleans for her Bangerz tour, joined her buddies for a late-night grub session, and while waiting for the food, Miley decided to give the employees at the restaurant a little twerking show (luckily, her friend caught this all on Instagram so we can get in on the fun, too).
Earlier in the day, Cyrus had breakfast and a coffee at the District Donut and Coffee Shop followed by some sightseeing at a local cemetery. Creepy? A little. Miley posed by one of the tombs shaped like a pyramid while putting her diamond in the sky for a photograph (Jay Z would be so proud).
Unfortunately, the star's tour hasn't been all about blowout concerts and fun memories. Things became dangerously overheated Monday night when one of her tour buses broke out in flames! "A tire blew, then the whole bus caught on fire," a source tells E! News exclusively, noting that Miley's mom, Tish, and 14-year-old sister, Noah, were staying on this particular bus.
The scary incident, which happened "between Texas and New Orleans," thankfully caused no injuries.