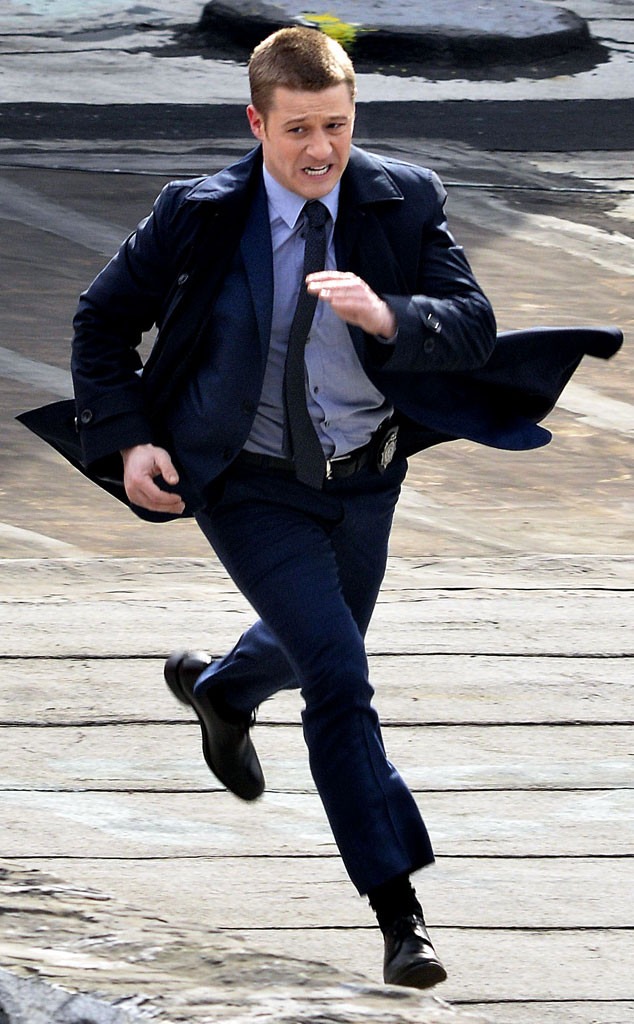 Curtis Means/ACE/INFphoto.com
It's safe to say Gotham isn't your daddy's Batman story. The Fox drama, which already has a series order, tells the origin story of James Gordon, the man who would become the commissioner and Batman's trusted confidant, before the Dark Knight takes on Gotham City's underwold.
The drama follows Southland star Ben McKenzie as a young Detective Gordon with his partner Harvey Bullock played by Sons of Anarchy's Donal Logue as the fight crime in Gotham City before the Batman ever existed. Check them out below.
Gotham stars Robin Lord Taylor as Oswald Cobblepot, also known as the Penguin. In Gotham, the character is a henchman for Fish Mooney, a mob boss played by Jada Pinkett Smith. Here's a sneak peek at the new stylish Penguin below. And for good measure, we put him next to Danny DeVito as the Penguin from Batman Returns. We told you, this isn't your normal Batman TV show.
Warner Bros.; Brian Prahl / Splash News
Gotham also stars Sean Pertwee as Alfrey Pennyworth, Bruce Wayne's loyal butler. But this Alfred isn't just making "young master Bruce" drink his tea and have his soup; he's a tough ex-marine who is fiercely protective of Bruce Wayne (played by Touch star David Mazouz).
Zabryna Guevara of Burn Notice fame will play Captain Essen, Gordon's Gotham PD boss and Erin Richards plays Gordon's fiancée Barbara Kean. Rounding out the cast is newcomer Camren Bicondova. She'll play Selina Kyle, the girl who grows up to be Catwoman.
The Mentalist's Bruno Heller wrote the pilot script and will serve as executive producer alongside director Danny Cannon.
Gotham does not have an official premiere date.