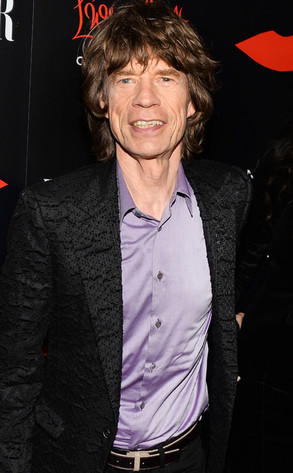 Courtesy of Charley Gallay/Getty Images for Banana Republic
UPDATE: "The Rolling Stones are deeply sorry and disappointed to announce the postponement of the rest of their 14 ON FIRE tour of Australia and New Zealand following the death of L'Wren Scott," the band tells E! News in a statement. "Mick Jagger, Keith Richards, Charlie Watts and Ronnie Wood wish to thank all of their fans for their support at this difficult time and hope that they will fully understand the reason for this announcement."
--------------------------------
The Rolling Stones have canceled the first date of their Australian tour after the death of fashion designer L'Wren Scott, lead singer Mick Jagger's girlfriend of 13 years. The band was scheduled to play in Perth on Wednesday. No further information is available at this time, the concert promoter told E! News Tuesday. Attendees are asked to hold on to their tickets until a further update is available.
The Rolling Stones are slated to perform in Sydney, Melbourne and Macedon later this month. The group also has two gigs lined up in Brisbane and Auckland, New Zealand, in April. The band will then travel to Europe in June, with concerts scheduled in the Netherlands, Germany, Italy and Belgium.
Scott was found dead in her New York City apartment Monday morning. Upon hearing the sad news, Jagger's rep said the singer was "completely shocked and devastated" by Scott's apparent suicide.