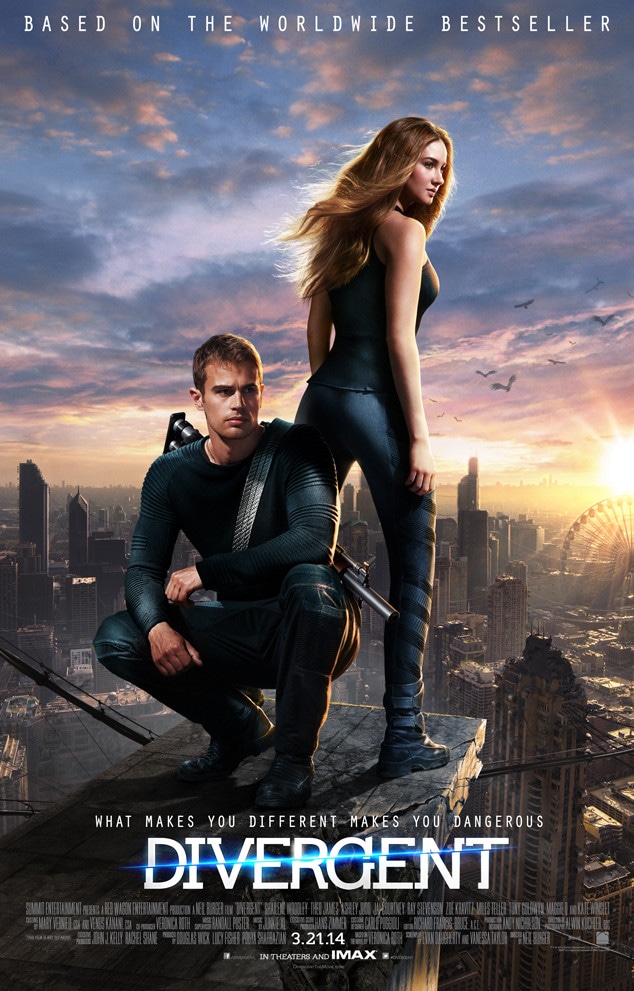 Summit Entertainment
This week, you guys. Divergent hits theaters this week! éà
While you plan which faction you will be representing with your outfit to the movies on March 21 (all black for the Dauntless, duh!), you may want to check out some of the early reviews for the highly anticipated adaptation of Veronica Roth's YA novel. Although Shailene Woodley and Theo James are said to give strong performances, critics seemed rather bored with film, noting the extreme similarities to The Hunger Games and other young adult books.

However, many also note that fans of the series will still be pleased with Neil Burger's creation. It's those that are new to the Divergent world that may find themselves underwhelmed.
• The Hollywood Reporter states, "Dystopia can be presented in dynamic ways, but this iteration of it is, above all, no picnic for the audience. Woodley, a sensitive performer, is hamstrung by the screenplay but lends her role relatability and a convincing athleticism. Burger and Kuchler's unfortunate preference for mascara-ad close-ups, however, detracts from the character's grit. In the hands of Burger, whose credits include The Illusionist and Limitless, the story's elements of spectacle, decay, symbolism and struggle only rarely feel fully alive. Lackluster direction in the early installments of other YA franchises hasn't slowed their momentum, though. Divergent will be no exception."
• Forbes says, "Divergent will play to the converted and please the fan base. But despite Shailene Woodley's terrific performance, its generic story renders much of its mythology irrelevant."
• The Wrap concludes, "This Frankenstein of stitched-together YA parts never stands on its own two feet, even with Kate Winslet giving full-on Faye Dunaway."
• Variety explains, "Even though it stretches to nearly two-and-a-half hours and concludes with an extended gun battle, by the time Divergent ends, it still seems to be in the process of clearing its throat. Blame it on burdensome commercial expectations, perhaps: Adapted from the first novel in Veronica Roth's blockbuster YA series, this film has clearly been designated an heir apparent to Summit-Lionsgate's massively lucrative teen-targeted Twilight and Hunger Games properties. Yet director seems so concerned with laying franchise groundwork that he neglects to create an engaging standalone movie, and Divergent's uncertain sense of setting, bloated plot, drab visual style and solid yet underwhelming lead turns from Shailene Woodley and Theo James don't necessarily make the best case for series newcomers. Fans of the books will turn out for what should be a very profitable opening weekend, but with future installments already on the release calendar, the film's B.O. tea leaves will surely be read with care."
• Indie Wire says, "At almost 140 minutes, there's no better way to describe Divergent than as a bit of a slog. Where at the very least The Hunger Games (and its sequel) shuffled quickly from macro to micro with its world building, Burger's film takes its time introducing the idea of factions, and devotes enormous attention to Tris' identity crisis before audiences get any real sense of the larger societal issues that will be explored. Burger's film is, to its credit, probably second-best among the YA adaptations that Hollywood has mounted since Twilight put the subgenre on the map. But with a second installment already going into production, one hopes that the series' world-building is done and its world-living can begin. Because the quality that Divergent still lacks is the broader emotional resonance that makes it distinctive—which is why, for the time being, it's not yet being defined by anything other than what it isn't."
• Meanwhile, The Huffington Post declares, "I'm never really sure how readers will take changes to the movie, but for me, I wasn't overly upset about the alterations that were made. I was far too busy fawning over Four and feeling the rush of crazy Dauntless antics...The Divergent movie truly captures the spirit, adventure and excitement of the book, and I cannot wait to see again once it's out."