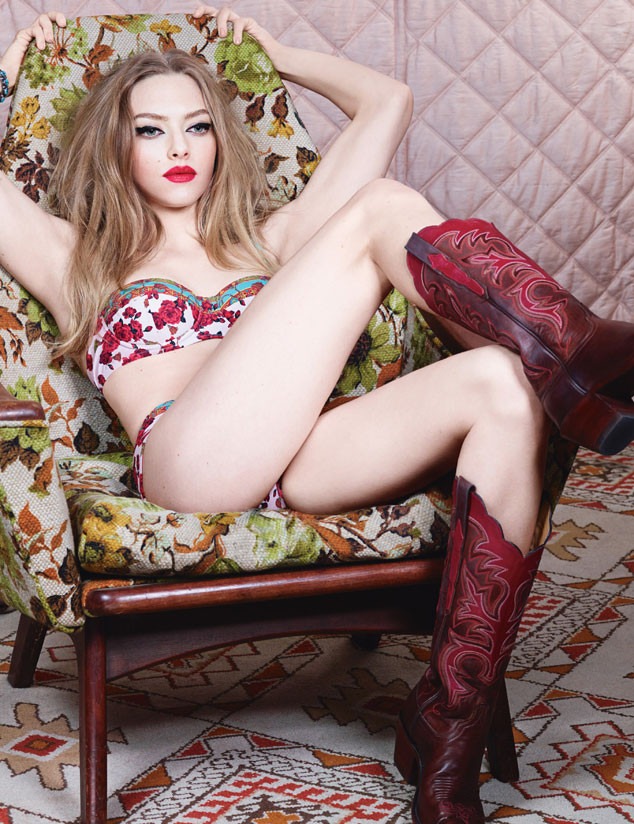 Craig McDean exclusively for W
Amanda Seyfried looks sexier than ever in the April 2014 issue of W.
The A Million Ways to Die in the West actress poses in various states of undress for the magazine, rocking floral lingerie and red leather cowboy boots. Seyfried, of course, is no stranger to showing off her sultry side—remember when played adult film star Linda Lovelace in 2013's star-studded indie Lovelace? Or when she kissed Megan Fox in 2009's heavily publicized but little seen Jennifer's Body?
"We kissed really well together," Seyfried says of Fox. "We have similar kissing styles! If I watch the scene, it's actually really sexy. We got it done for the masses, and, sadly, the masses didn't show up."
While the actresses' steamy lip lock was scripted, Seyfried admits she's fallen for her colleagues in the past. "I met my first boyfriend on a soap opera," she says of All My Children's Micah Alberti. "We kissed for the first time on the show. It was like a fairy tale. When you're young, it's hard not to get together with your co-star. It's not always the greatest idea, but the experience of making a television show or a movie is so intimate and romantic."
Alberti isn't the only person Seyfried's fallen for on set: she also dated Dominic Cooper, her love interest in 2008's Mamma Mia! movie. "I love acting like I'm in love! Sex scenes are great," says the star, whose other exes include Ryan Phillippe and Josh Hartnett. "A lot of my co-stars have been sexy guys my age who are really respectful and cool. So, why not? I'm not going to pretend it's not fun."
Craig McDean exclusively for W
Seyfried is currently dating actor Justin Long. Compared to previous interviews with W and other publications, she is more reluctant to discuss her personal life. "It may be that I'm older, and it may be that social media is everywhere now," she says of staying private. "I don't think I was really famous until last year—and I felt like no one paid much attention to what I was doing. That was good. But Les Mis was an international hit, and that changed things. Before, I was a little more anonymous."
In fact, according to Seyfried, she's less recognizable than her pet. "When I landed in Korea recently, there were people holding up pictures of Finn," the movie star recalls. "In the past year, people just learned how to pronounce my last name correctly, but they all know everything about my dog."