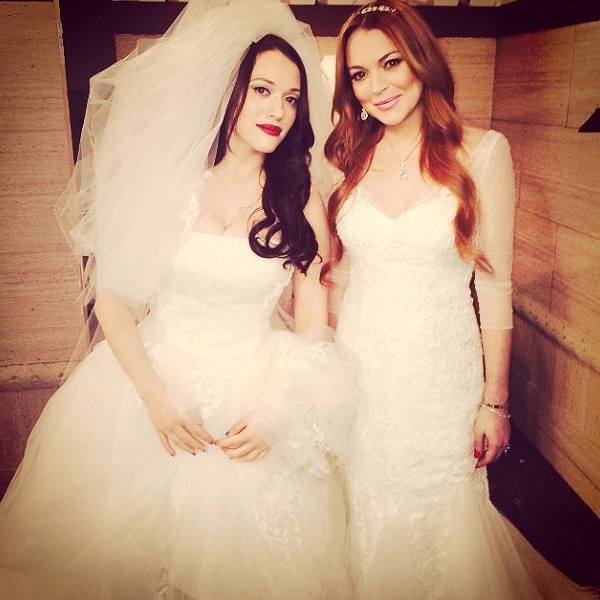 Instagram
This just in: Lindsay Lohan was not a trainwreck while filming her recent guest appearance on Two Broke Girls.
In fact, she was just the opposite, according to someone who was there: Kat Dennings!
Here's the story so far: A blogger who attended the taping of the popular CBS show had claimed that Lohan's work had been, let's say, unimpressive or worse. But once the hit sitcom's star Dennings got word of the rumors surrounding LiLo's recent acting gig, she took to Twitter to stick up for the embattled actress.
"This article is complete bulls--t. Lindsay was prepared, sweet to everyone, & professional," Dennings wrote with a link to the now viral story. "Not nice to spread lies."
In the original story, which appeared on the blog Crazy Days and Crazy Nights, the writer claimed LiLo's lips were "so plumped out she couldn't really get them open because of her Botox, which also caused her to have trouble pronouncing certain words...It sounded like someone who had injected Novocaine an hour earlier."
The blog post also claimed Lindsay's cell phone rang during the taping, which she supposedly answered, and the post alleged Lindsay did not know her lines.
"There is not a member of the audience who couldn't do a better job than Lindsay Lohan last night," the item claimed.
However, Dennings insists this false account could not be further from the truth, and her version is very similar to what another source revealed to us.
FameFlynetUK/FAMEFLYNET PICTURES
"Lindsay was great; she was on-time, she had a great time and got along terrifically with everyone," a source told E! News, adding that Lindsay has also been invited back to the show.
Glad to hear it, LiLo! And we can't wait to see the final result when the episode airs on April 14. The 27-year-old star plays the role of Claire Guinness, a bridezilla who asks Max (Kat Dennings) and Caroline (Beth Behrs) to make her wedding cake, and she even gets to incorporate a bit of her mean girl persona.
But if you can't wait that long to watch the sure-to-be hilarious onscreen drama go down, then you can watch Lindsay on the boob tube every Sunday night on her self-titled documentary series for OWN.
—Additional reporting by Baker Machado