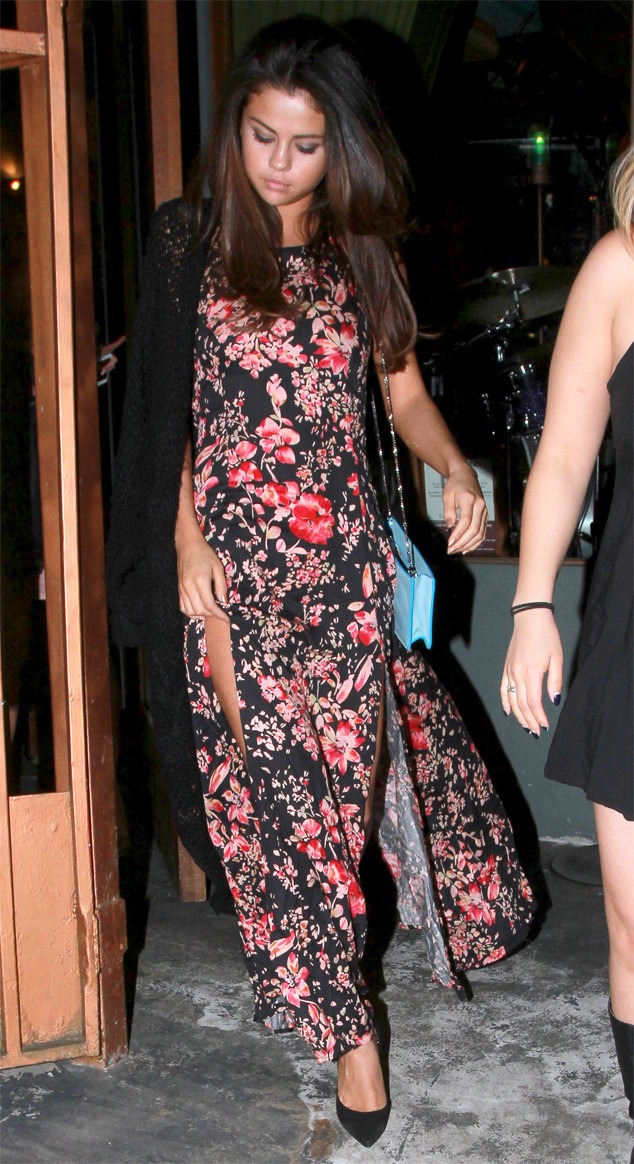 Coleman-Rayner
While there may not have been a single male to be seen in Selena Gomez's group, the brunette beauty still opted to sport a head-turning look when she stepped out in Los Angeles last night.
The 21-year-old pop star enjoyed a girls' night out (sans rumored boyfriend Justin Bieber) on Thursday at the Rockwell Table and Stage in L.A., where she watched a few pals perform at the trendy lounge.
"Selena Gomez came to see For The Record: Baz Luhrmann last night," a source tells E! News. "She knows two of the show's stars, Janel Parrish (Pretty Little Liars) and Ginifer King (Nickelodeon's The Haunted Hathaways). They had all met at the Nickelodeon Kids' Choice Awards last year."
The insider adds that Gomez "came with about eight girlfriends," and they all "ate and drank while watching the show" at the dinner theater venue.
Gomez looked absolutely gorgeous upon arrival, glowing in a floor-length floral print boho chic dress which featured sexy slits that showed off her long legs. She added a pair of black pointed toe pumps, a bright blue handbag and a kimono style shawl to her eye-catching ensemble, wearing her long brunette locks down in a straight and sleek style.
"The show was so much fun, everyone was singing along," the source said of Gomez and her group of gals. "The girls had an amazing time and stood at the end to cheer on the cast."
Another source added that the "Come and Get It Singer" left the lounge just after 11 p.m. And in case you're interested in checking out the next For the Record series (or possibly catching a Selena Gomez sighting!), the show will be moving homes later this month to West Hollywood's DBA.
247paps.tv/startraksphoto.com
Gomez has returned to Los Angeles after filming a new commercial with Adidas' NEO label in New York City on Tuesday following a wild weekend in Texas, where the former Disney darling reunited with her ex (and possibly on-again?) boyfriend Justin Bieber, as E! News exclusively reported.
The former lovebirds, who seem as if they are indeed back together, were spotted grabbing breakfast at a local eatery on Friday, where they were even seen kissing (!) and then later shopping that same day in the city of McAllen with the Biebs' bodyguard and several other pals.
Then on Saturday, Gomez performed at the 2014 BorderFest concert at the Hidalgo State Farm Arena in Texas, marking her first show since her stint in rehab earlier this year. Bieber remained in Gomez's tour bus during the concert due to "security reasons" although he gave a surprise performance at the 2014 SXSW Festival in Austin on Sunday, during which he dedicated "As Long as You Love Me" to his "baby girl" while Gomez reportedly watched from backstage.
And if that wasn't enough to send Jelena fans into a frenzy, the two also recorded a very sexy dance video to the tune of John Legend's hit song "Ordinary People" at Action Dance Studios in Texas, and the owner even told E! News the pair had "good chemistry" (which is blaringly obviously with just one peek at the clip). 
Bieber has since been tweeting about spending time in the studio, so no word yet when he'll pay a visit to "the most elegant princess in the world."
But based on the history of these two, we have a feeling there will be a sighting sometime soon.
—Reporting by Sara Kitnick