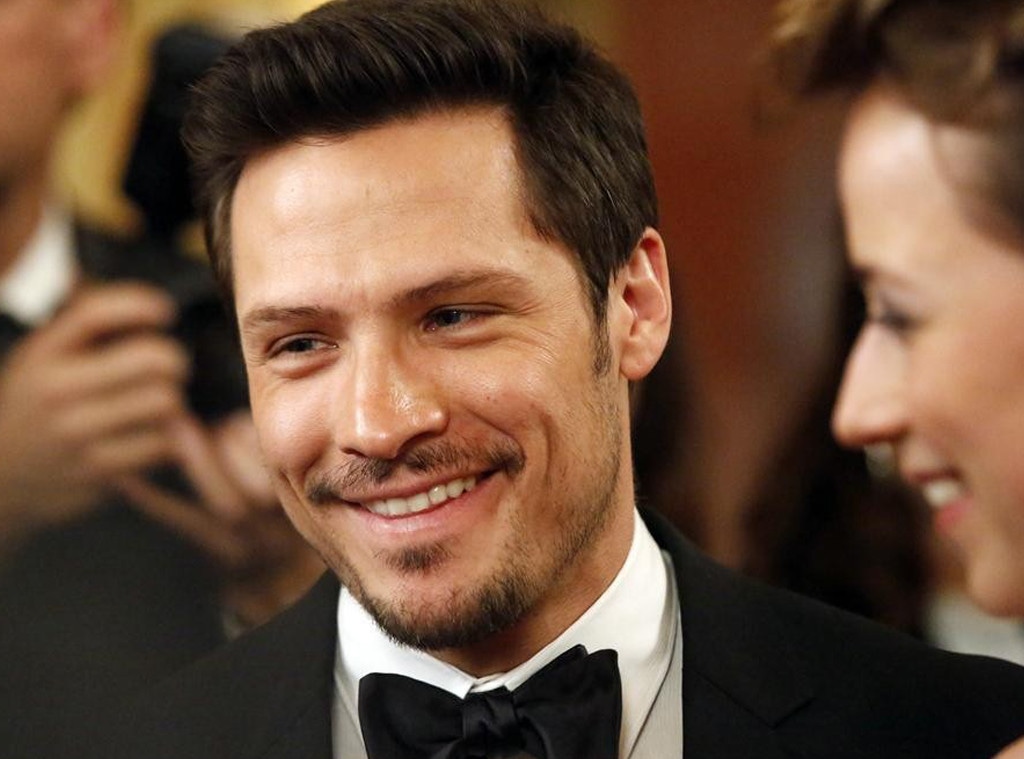 ABC
And the Revenge family tree just keeps on growing!
Fans were shocked last Sunday night to discover that Jack (Nick Wechsler) has been connected to the Graysons since before he was born. You know Stevie (Gail O'Grady), Conrad's (Henry Czerny) drop-dead gorgeous ex-wife Stevie? Well, she's actually Jack's mother and she revealed the news to her estranged son at the end of last week's episode. Holy mother of twists, right?
Now, fans are dying to know what this new family connection means for Jack, a character who, to say the least, hasn't had the best of luck living in the Hamptons over these past three summers. To help prepare you for the whirlwind of crazy that is headed to Revenge over the next few weeks, we chatted with Nick Wechsler, to find out his reaction to getting this mother of a twist and what this new connection could mean for his rocky relationship with Emily (Emily VanCamp).  
The 35-year-old actor exclusively tells us that he was stunned and excited to discover the identity of Jack's mom. "My first reaction was sort of like, 'Wow, this is an incestuous little [group]! We're all interwoven in each other's lives in some crazy way,'" he laughs. "So when they mentioned that at first, I was like, 'Oh s--t, really?' And then once they told me, I was like 'OK, now I see why we're doing it, it's pretty smart.'"
And although Jack can be a bit standoffish, Wechsler admits that understands why Jack would "want a sense of belonging," after everything he's been through. "I think there is a part of him that is reserving judgment on her, but she seems to be genuine in her approach to coming back," he reveals. "He could let her in—she's just gotta earn it."
Don't you break his heart, Stevie!
And like every juicy secret on Revenge, Jack won't be able to keep news of this magnitude under wraps for long. Although we can't tell you who Jack will confide in, we can tell you that it will certainly shake things up. "Once that comes out, he'll be sort of tied to this," Wechsler teases. "There'll be even more cause to fight the Graysons."
One thing is for sure, Jack's newfound connection to one of the most poisonous families in TV history will certainly help bring him closer to Emily. "I think this sort of helps him understand why [Emily] was doing what she was doing. His wife was killed, and his brother was killed by the same family that f--ked her over," he explains. "[Jack] wants back in, if for no other reason than to protect Emily and those he loves, but I think he might sort of want to find his way back into the fight with the Graysons."
Looking forward to the season-three finale, Wechsler admits that he cannot wait to see the audiences' reaction, especially because it re-opens the door for a fan-favorite couple. Are you listening, Jemily shippers?!
"The ideas planted in this finale are awesome," he gushes. "I'm also excited for people to see Jack and Emily—we find a way for their feelings to blossom again. An opportunity for them is created. I'm excited for that, because it's significant to his purpose on this show, but also just in terms of the excitement of cool writing and being a part of what they're doing."
Revenge airs Sundays at 10 p.m. on ABC.