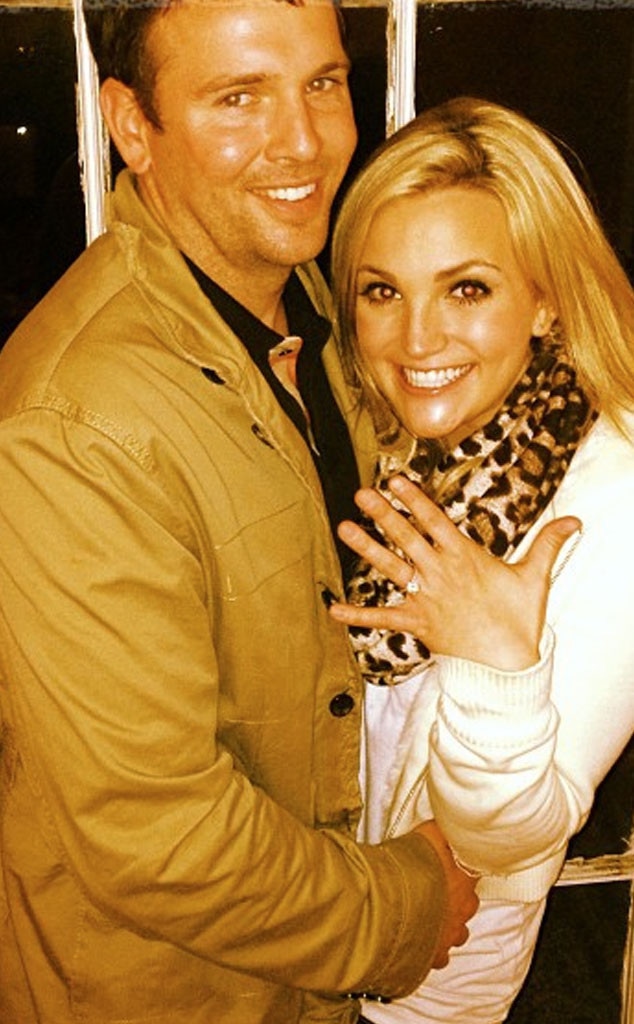 instagram.com
They did!
Jamie Lynn Spears married fiancé James Watson tonight in the tea room at Audubon Tea Room in New Orleans, a source confirms to E! News.
Britney Spears and boyfriend David Lucado were spotted catching a flight out of Los Angeles yesterday, on their way to Lousiana to witness Jamie Lynn's big day in person. Mom Lynne Spears accompanied her betrothed daughter to a nail salon near their home in Kentwood earlier Friday as wedding preparations kicked into high gear.
The bride had picked out a gown by Liancarlo while out shopping for wedding dresses with her 4 1/2-year-old daughter, Maddie, and Lynne January.
Jamie walked Jamie Lynn down the aisle. Maddie was the flower girl and sparkled in a little white dress while Spears' two boys, Jayden James and Sean walked together as ringbearers. There were about 150 to 200 people present for the nuptials and guests, along with the newlyweds, enjoyed a five-tiered wedding cake.
Watson popped the question a little over a year ago, with Spears showing off her diamond via Twitter and complimenting her fiancé on doing a nice job with the ring.
This is the 22-year-old singer's first trip down the aisle. She was engaged to, but never married, Maddie's dad, Casey Aldridge. As E! News was first to report, Spears and Watson filed for their marriage license on March 5 and had 30 days to use it.
Britney publicly congratulated Jamie Lynn on her engagement via Twitter last year, writing, "So excited and happy for my sister! congrats @jamielynn spears - love you."
Jamie Lynn shocked her fans when, while still starring on Nickelodeon's Zoey 101, she got pregnant at the age of 16. The newlywed has come such a long way since then, telling E! News in an exclusive sit-down in November that, at the time, the news "made no sense and I didn't understand it and I was young."
Talking to Country Music Is Love last month, she revealed that she wrote her single "How Could I Want More..." about four years go, when things were starting to get serious with Watson—and she was unsure about what she wanted.
"It was when I was going through this time in my life where my now fiancée, we were kind of in a transition stage. I had just moved to Nashville full-time and I was focusing on being a mom and focusing on my work," Jamie Lynn recalled.
"I was having the struggle of how could I want more? He's a great guy, but I was really was just not in a place to be in that relationship. It's funny, if you fast forward to where I am now and I'm going to marry this man and the song really came full circle. It's an older song, but it still means so much to me. It was written at a very vulnerable time. Every time I sing it, it just brings all that back up."
—Reporting by Michelle Falls