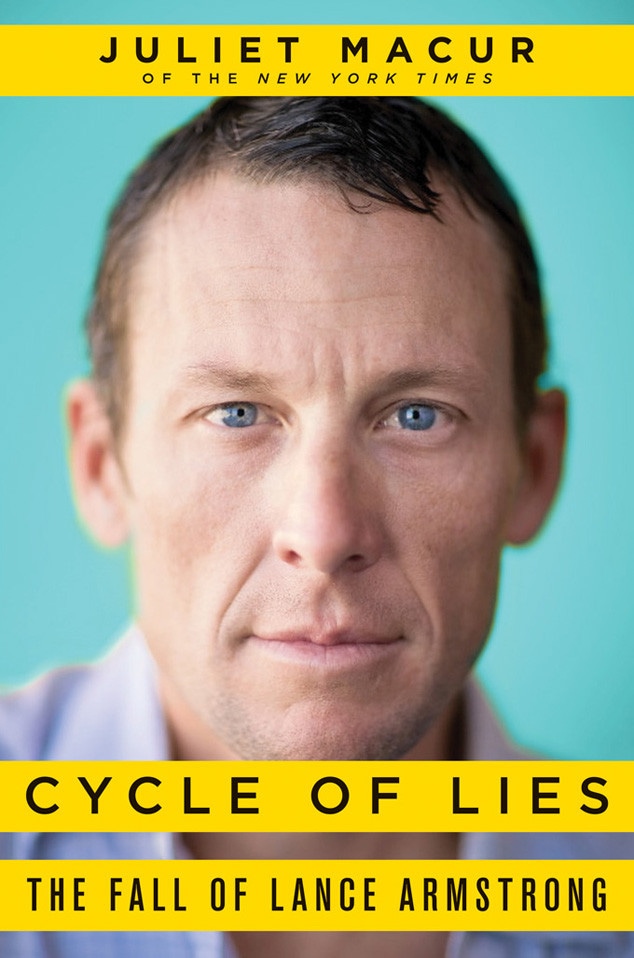 Harper Collins
Blowhard. Prick. F--kin' weasel. Piece of s--t.
No, those are not descriptions of disgraced cyclist Lance Armstrong, but these are just a few (and seriously, there are more) of the choice and often profane words the former champion uses to describe old friends, family members, teammates and others who've come into orbit, according to journalist Juliet Macur's Cycle of Lies: The Fall of Lance Armstrong.
In what is being called a "definitive account of Lance Armstrong's spectacular rise and fall," the award-winning New York Times reporter interviewed Armstrong and more than one hundred others to delve deep into Armstrong's story to get at the truth.
Here are five of the most shocking revelations from Cycle of Lies: The Fall of Lance Armstrong.
Larry Horricks/Studio Canal Films
1. He's Not Too Bright: "One thing I'll always say about my son, and I still love him to death, but he's not the brightest tool in the shop," said his stepfather Terry Armstrong, in the book. Terry said he decided to push his stepson in athletics because he doubted Lance would get into college on academics alone. He further explained, "He was lazy. He didn't want to study. He wanted to go run. He wanted to go ride his bike. He wanted to go play."
2. He's a Bully: When Armstrong's doping scandal began to dominate the headlines, his strong-arm tactics in dealing with reporters, ex-allies like Betsy and Frankie Andreu and even ex-wives began to come to light. The book claims his tormenting ways started early: Classmates from middle school said he enjoyed "picking on people that were vulnerable and harassing them on a daily basis." As well, a professional triathlete Armstrong trained with when he was 14 years old said that Armstrong used to tell competitors at the beginning and end of every race, "I'm going to kill you. You are pathetic."
And when Armstrong was reportedly advised by Steven Ungerleider, a sports psychologist who wrote a book about the East German doping machine, to return his Olympic bronze medal as a gesture of good faith? He reportedly said, "F—k you, I'm keeping it."
Kevin Mazur/WireImage.com
3. Matthew McConaughey Was His BFF: They were friends all right. Or alright, alright, alright. He and McConaughey were "dubbed Siamese twins," because they spent so much time together. In fact, they hung out so much gay rumors started swirling around their bromance. And in a recent Details magazine article McConaughey defended Armstrong, saying "'He told a lie, he's not a liar." Adding, "When [the news] came out, I took it personally, but then I realized it ain't personal to him. I was going, 'That son of a bitch!' But then I thought, 'Well, what was he supposed to do? Call me to the side and go, 'Hey, I did this?' But I'm happy for him now, because despite all this outside conflict, he doesn't have this inner conflict anymore."
4. He Dated Both Kate Hudson and Ashley Olsen: Armstrong was 36 years old at the time he broke up with Sheryl Crow and her ticking biological clock and later took up with a young Ashley Olsen. When his close friend John Korioth warned him his May-December relationship may jeopardize the fundraising work he was doing for cancer, Armstrong allegedly said, "She's twenty-one. F— You."
5. He Didn't Watch His Interview With Oprah, but He Asked for It: Weeks after declining a sit-down with the Big O, he called her to ask for a meeting while they were both vacationing in Hawaii. There he told her,  "I want to come clean and I want to do it on your show, with you asking the questions and the whole world watching." But when their face-to-face aired Armstrong refused to watch his confession. He reportedly later asked his confidant Korioth, "What did you think?"  
"Man, Lance, I got to tell you, watching that interview, you are a really good liar," he said, and then adding later. "Yep, you're a really good liar, but you're horrible at telling the truth."