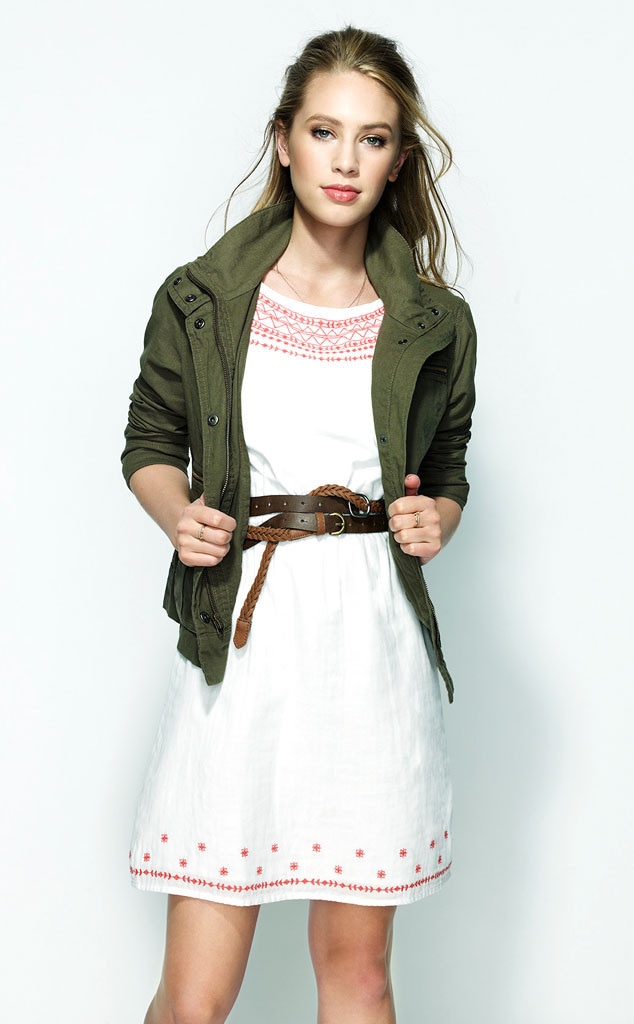 Gap
New season, new look!
At least that seems to be the case for Gap Outlet, who have smartly tapped the stunning Dylan Penn to front their spring campaign alongside a fun new marketing partnership with Fashion Police's own George Kotsiopoulos.
The dynamic duo seems to be a savvy (and stylish!) choice for the popular mall retailer, breathing fresh life into their classic clothing collection we all know and love.
First off, Sean Penn and Robin Wright's daughter looks awfully pretty in an olive green anorak topped over a lightweight embroidered sundress in one shot, and casually cool in a denim-on-denim ensemble and crisp eyelet top in another. 
Her natural fresh-faced beauty is radiant and youthful, adding an energetic yet approachable touch to their traditional imagery.
"I've always felt most confident in comfortable basic clothing. The Gap Outlet stays true to simple yet classic pieces that are always easy to wear," the model, who has previously been linked to Robert Pattinson, told us exclusively.
As for the famous stylist, Kotsiopoulos is rolling out the "Exclusively Styled" campaign with Gap Outlet, which features a fashion-forward, feminine side of the brand at an affordable price point. 
The TV personality will serve as a style editor for the brand, offering expert tips, product picks and styling insight on a variety of mediums including social media, print ads and in-store displays for the next four seasons, in addition to styling chic beauties like Penn for promotional campaigns.
"I am beyond excited about my partnership with Gap Factory stores because they provide affordable, on-trend, high quality fashion for people of all ages.  I have been a fan of the brand ever since I was a kid and have been wearing it ever since.  The Gap brand is iconic like apple pie and I am honored to be a party of the family," he told us. 
Love it!
With fabulous initiatives like this in place, we'll be minding the Gap all year round.