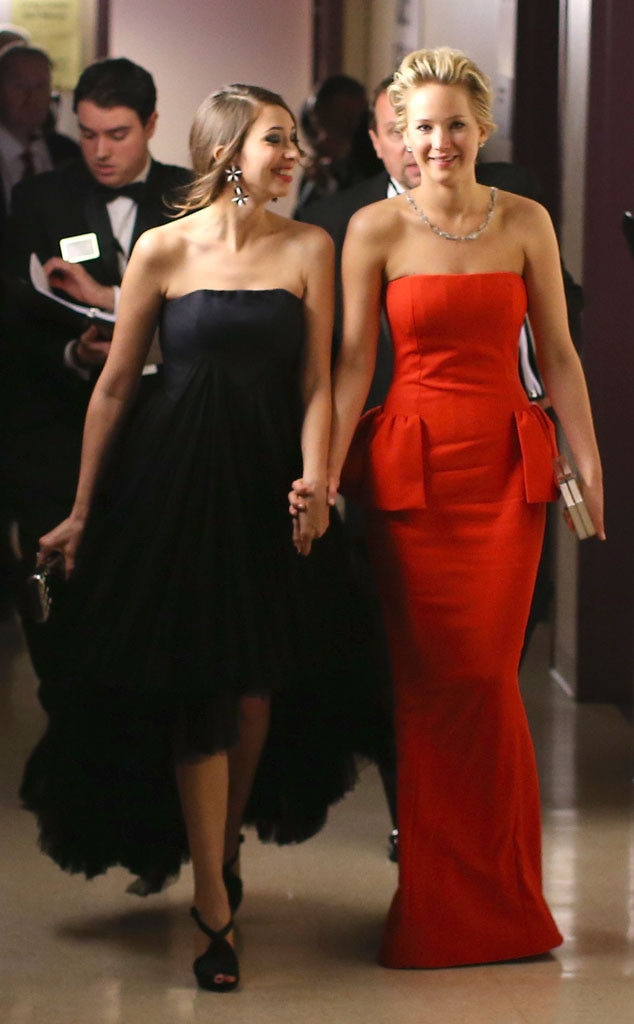 Christopher Polk/Getty Images
Jennifer Lawrence may be your best friend (and everyone's best friend), but it seems you are not her best friend. Because you were not asked to be her date to the Oscars. Laura Simpson was. Sorry about it.
Simpson, a model who Jennifer was rumored to have once set up with Bradley Cooper (he said they didn't date), says she met Jennifer Lawrence "seven years ago at an event where we both didn't know a single person. We hit it off over a mutual respect for Chandler Bing, and we have been eating pizza together ever since."
Laura wrote about her whole Academy Awards experience in a MySpace feature titled, "I Went to the Oscars and Nobody Cared" (which is clearly not true—the nobody caring part—because, here we are. Reading. Caring.) 
(A few more things to get out of the way right away: Ew, MySpace? Yeah, we know. Whatever. Also, is it weird to anyone else that Laura calls Jennifer "my date" for the entire piece instead of calling her...Jennifer. Or Jen? Whatever she calls her in real life? It's like she's trying to be classy and not name names, but girl, we know who your date was. That's why we're reading this story. Lastly, hopefully Jennifer Lawrence knew her friend was planning to write about her and their night. Otherwise this all seems kind of, um, tacky. But again, whatever. It's MySpace.)
Watch:
Jennifer Lawrence Falls at 2014 Oscars
The whole thing is a bit #HumbleBrag-y, if not a bit heavy on the complaining (especially for someone who got invited to the Oscars). "Somehow the night before the Oscars I managed to get into an argument with my best friend," Laura writes. "I think I cried more in the 12 hours before the Oscars than I have in 10 years—I was really getting into the drama of the evening."
But it's still very interesting. 
Laura talks about what you don't see behind-the-scenes before the red carpet: Guards wearing camouflage with "gigantic automatic weapons." The Westboro Baptist Church protesting with signs of Phillip Seymour Hoffman and Paul Walker that said "BURNING IN HELL" (Laura says it was "like I am heading to my own person Salem Witch Trial.") 
And obviously she discusses the moment she became a GIF—when Jennifer Lawrence fell at the Oscars (for the second year in a row, though the year before was during the actual broadcast):
We finally arrive at the red carpet and as we exit the car, my date eats s--t and uses my freshly done Lauren Conrad up do to break her fall. The crowd goes wild. There are flashbulbs and people circling yet no one asks if I need any help because unless you are famous at the Oscars, you are completely invisible...The only time anyone talks to you is if you are in the way of his or her photo. Oh and photographers on the carpet yell 'YOU IN THE HUGE DRESS, GET OUT OF THE F--KING SHOT.'...It is no wonder actors are crazy.
The name-dropping is the best part of the story though, so here it is in an easy-to-digest format:
Jessica Biel Is Nice: "I decide to use the restroom before I sit. Jessica Biel holds the door open for me and compliments my dress—no human being should be allowed to have her face and body."
Margot Robbie Maybe Steals: "I get inside and Margot Robbie from Wolf of Wall Street shows me her Kardashian-sized diamond ring in line for the toilet and says 'I feel like a guy with a gun should be following me—I could be halfway to Mexico with this by now.'"
Channing Tatum Is Also Nice: "Some guy picks up my purse that had fallen off my seat and I say 'Thank you… Channing Tatum'..."
Jennifer Garner Laughs Awkwardly:."..and my dress gets caught on Jennifer Garner and we awkwardly laugh and someone tries to separate us."
Kerry Washington Is Hungry: "The lovely pregnant Kerry Washington asks me if she could have the Slim Jim in my purse."
Glenn Close Has Secret: "Glenn Close shows us her Oscar secret, which is a handmade corset and a dress long enough to hide her comfortable shoes."
Miss J From America's Next Top Model Was There (??? Why ???): "Miss J is sashaying around the room being crazy fabulous and I am one of maybe two non-famous people there.
Penelope Cruz Is Always Watching: "I kind of just sit there and smile creepily when someone catches me staring—shout out to Penelope Cruz."
Brad Pitt Is Musky: "After the show we go backstage where I meet Brad and Angelina [Jolie]. Brad Pitt smells amazing, like nothing I've ever smelled. Eventually we ask what cologne he's wearing and he tells us, 'I don't wear cologne, it's just my musk I guess.'"
Bill Murray Just Wants to Dance: "[I] decide to follow Bill Murray around the party. At one point he looks in my direction and winks at me while dancing to 'If You Want My Body and You Think I'm Sexy' by Rod Stewart—a moment, I now realize, my whole life had been leading up to."
Rachel Zoe Speaks in Made Up Words: "Rachel Zoe grabs my arm and tells me I look "mage" (if you don't know her lingo, that's short for major and the highest compliment you can receive)."
Harvey Weinstein Is Harvey Weinstein: "Harvey Weinstein at the bar shaking my hand and saying, 'you know who I am.'"
Laura wraps up the piece by with the after parties (they couldn't enjoy themselves at Vanity Fair because "everyone, whether they know my date or not, has some weird story they just NEED to tell her as they stand in front of me pushing me out of the circle," they enjoyed themselves much more at the after-after-party "with the exception of a few weirdos) and concludes, "The whole experience was completely exhausting, overwhelming and surreal."
"I think what I took most away from the evening was how lovely all the women were," she continues. "Actresses tend to get a bad reputation but every woman I met was lovely, witty and introduced themselves to me even though I wasn't famous—even Anne Hathaway."