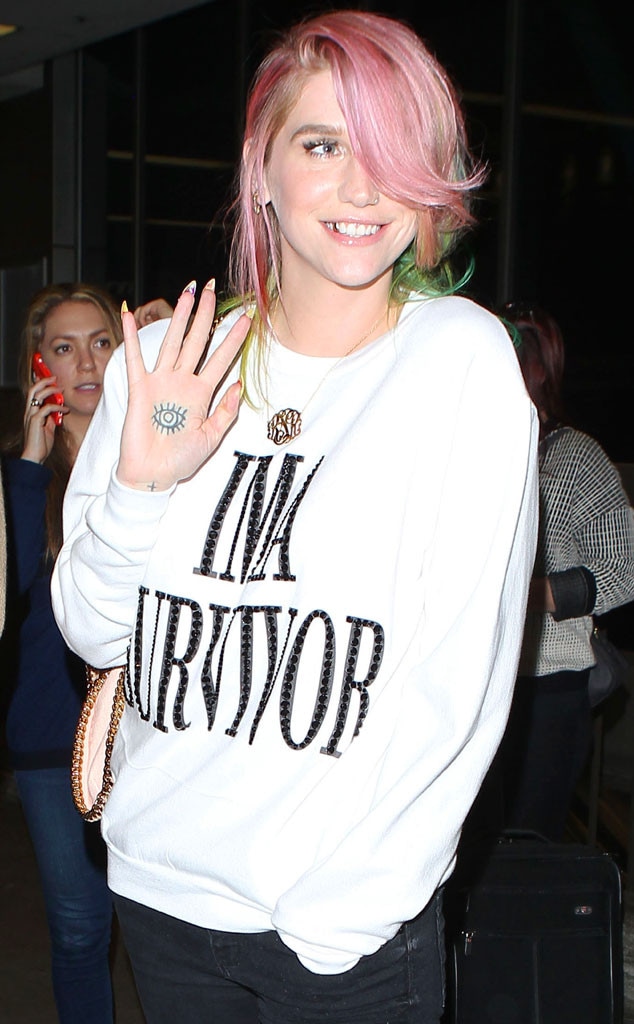 NGRE/AKM-GSI
Say goodbye to the dollar sign and Ke$ha. Hello (again) to Kesha.
The singer is starting fresh after leaving rehab, and that means she is reverting back to her birth name.
The "Timber" crooner's rep confirms to E! News that she is using the letter "S instead of the symbol "$." The pop superstar also changed her Twitter handle from @Ke$haSuxx to @KeshaRose.
Kesha returned to Los Angeles after a two-month treatment program for an eating disorder at Illinois' Timberline Knolls. The smiling 27-year-old was photographed at LAX on Thursday with rainbow hair and a sweatshirt that read "Ima Survivor."
"Happy to be back!" she happily tweeted. "Feeling healthy & working on tons of new music. I can't thank my fans enough for all the love & support u have given me." After posting emoji hearts and a rainbow, the Nashville-raised musician added, "Life is beautiful. I'm so blessed to have u all."
Kesha entered treatment in January and told E! News in a statement, "I'm a crusader for being yourself and loving yourself but I've found it hard to practice."
In February, she extended her 30-day stay and postponed her spring tour to focus on getting "my health back on track," she told E! News in a statement. "All of your support has been so amazing. I couldn't have done this without you all. I look forward to coming back stronger than ever on the next tour."
Her mother, Pebe Sebert, later entered the same Chicago-area treatment facility to seek help for post-traumatic stress disorder.