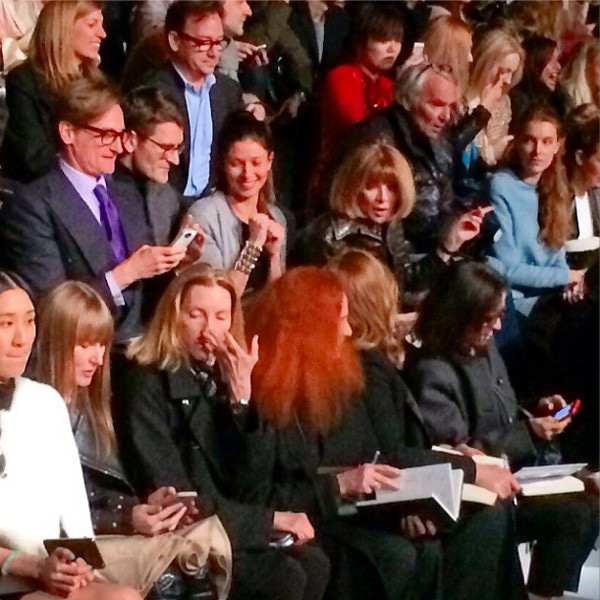 instagram.com/christinabinkley
Anna Wintour is an expected presence in the front row of just about any fashion show. Until now, that is. 
The iconic Vogue editor was photographed (by way of a sneaky Instagram snap!) while seated in the second row during the Valentino show at Paris Fashion Week, creating a collective gasp on the Internet amongst fashion's elite.
So did someone snub the most powerful woman in Manolos in the City of Light?!
Nope! At least, according to blogger Bryan Boy, who was apparently present when the seating snafu went down.

Anna Wintour: badass. Tight seating at Valentino, not enough space on the front row so she let her Editors sit front while she sat second.

? bryanboy (@bryanboy) March 4, 2014
PR folks asked her to move to front and she didn't budge. Respect.

? bryanboy (@bryanboy) March 4, 2014
Although Wintour acted like a consumate professional, leaving the front row to her staff, it seems that the incident still may have given her a bit of a bad hair day.
The 64-year-old fashionista was snapped leaving the Stella McCartney show at the Paris Opera House on Tuesday, where her signature bob haircut happened to get caught in a large gust of wind.
Wintour's perfectly styled tresses were suddenly swept to the side (and not in an elegant way), proving she does have her moments of imperfection although they are rarely caught on camera.
She's just like us! (Well, technically, not at all, but at least this humanizes her a bit).