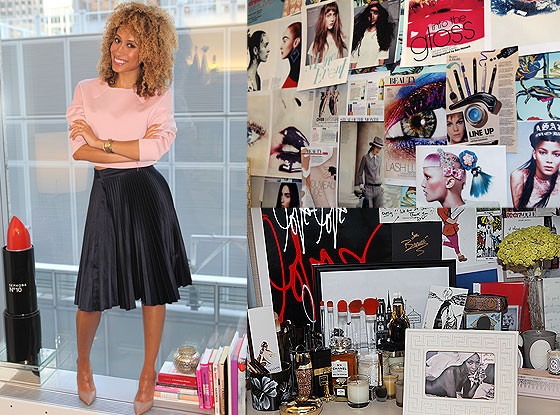 Jennifer Cooper, E!
We jumped at the chance to pick the brain of Elaine Welteroth, who is a true trendsetter—not to mention the beauty and health director at Teen Vogue.
But before we even got into career questions, we were itching to ask her one thing: thoughts on the Oscars?! "Once again, Lupita Nyong'o stole the show!" said Elaine. "She always manages to strike that perfect balance between simplicity, charm, and all-out glamour. I loved the subtle, peachy sheens on her cheeks and lips. It was just enough to complement her 'Nairobi blue' Cinderella-inspired Prada gown." 
And Elaine actually had the pleasure of seeing Lupita's flawless complexion up close and personal. "I sat next to her on a plane from London to New York recently and she mentioned that she eats gluten-free," she said. "It's got to be one of her secrets to that otherworldly glow."
OK, now that we got our burning Oscars question off our chests, keep reading to find out about Elaine's savvy career advice, what a typical day in the office is like, and what her quirky first job was!
What was your very first job?
I started out as the assistant to the editor-in-chief at Ebony magazine. She took me under her wing and gave me opportunities to take on bigger responsibilities very early on in my career. I eventually transitioned into a role where I built the beauty and style department there and learned a ton along the way. But my first job in life? I was the dancing mascot wearing a bird suit at the local Hometown Buffet. Embarrassing, but true.
Who are some of your career heroes?
Every boss I've ever had has challenged me, pushed me, believed in me, and lead by example. Amy Astley (Teen Vogue's editor-in-chief) has such a crystal clear vision for the magazine, she's accessible, and she places an incredible amount of trust in her editors. It creates a work environment that is empowering and really rewarding as a creative person. My very first boss, Harriette Cole—who was more like a fairy godmother in the industry—remains a close friend and mentor to this day.
What's a typical workday like for you?
No two days are the same. That's the best part! I split my time between writing and editing copy, meeting with as many as 15 beauty brands a week to learn about new launches, filming TV segments or new episodes for Teen Vogue's video channel, working on set for photo shoots…or racing to catch a plane to interview Rihanna in Barbados (clearly, that last one is anything but an ordinary day!). 
Describe your office décor. What was your inspiration?
My office is definitely an extension of my personality. I spend more time here than anywhere else, so it's important that it reflects my style and that it's an inspiring place to think. Although, it's admittedly impossible to keep clean with a gazillion beauty products coming in and out all the time. I keep products I'm testing out on a "testing block" (more like a silver platter I found on the free table that heroically makes my product dump look less lazy than it actually is.) I keep inspiration tears up on a mood wall. And I keep every note I've ever received from readers, co-workers, and PR friends that made me smile within reach. I am also guilty of hoarding white candles and about five million fragrance bottles. They're literally in every nook and cranny! But I like to think that they bring some zen and a little bit of luxury to the space. Do I sound like an episode of Hoarders yet?
List five things that are on your desk right now.
An empty Juice Generation bottle, sparkly nail polish from Deborah Lippman, my recorder, a layout for my favorite celeb shoot I've ever done (shameless plug? Indeed. Stay tuned for the May issue!), and a Diptyque candle in Roses with about one burn left to its name.
What do you typically wear to work?
Depends on my mood and what's on the calendar, but I always keep a spare stack of shoes on hand. Lined up under my desk and ready in a moment's notice are my patent leather Sportmax booties (the perfect, all-occasion shoe), nude Valentino pumps (easy outfit upgrade for important, impromptu meetings), fur-lined Jimmy Choo rain boots (to face the vortex), Sabah flats (for train commutes), Tkees sandals (for the rare after-work pedi appointment) and Adidas Spring Blades (for late-night workouts).
What are your favorite stores to shop for work clothes?
It really runs the gamut. I always love stopping by to see what Marc Jacobs has. I will buy pieces from Bergdorf or Barneys and then hit up Zara or Topshop for the rest.
What's the best piece of career advice you've ever received?
Bite off more than you can chew. And then chew as fast as you can.
Finish the sentence…
Today for lunch I had…an organic/raw/vegan/gluten-free zucchini linguine, raw almonds, a seasonal tart with almonds, dates, cashews, raw agave and Thai coconut, and a bottle of "Get Ur Green On" from Juice Generation. (It's day two of a "30 days green" challenge that I'm doing with my team for a story.) It all came in a surprise care package from Dove. And thank God it did because I coincidentally forgot my cafeteria card today!
The first website I log onto every day is…Teenvogue.com. So predictable, right?
The beauty product you can always find in my purse is…Burt's Bees lip balm. Lorac Double Feature Concealer/Highlighter hybrid. Chanel Les Beiges Healthy Glow bronzing powder and cream to powder blush in Creara. Lancome Rouge in Love #438B and their Oscillation Mascara. NARS Train Bleu Velvet Matte Lip Pencil. Dolce & Gabbana Shaping Brow Pencil. MAC Chromagraphic Pencil in Black Black. And Drew Barrymore's new Glisten Up! Highlighter Chubby in Honey Bronze from her makeup line called Flower. Was I really supposed to list just one?
My must-have work gadget is…my iPhone5. I take pictures of everything (current count is at 7,933) and I type hundreds of notes in it. It's my portable brain. I'd be completely lost without it. 
My usual Starbucks order is…not a coffee drinker. But when I go, it's a banana, egg white breakfast sandwich, and one of those ridiculously sweet seasonal coffees for an occasional treat or when I'm officially delirious.   
If I need a quick break during work, I usually…harass my assistant (@PhillipPicardi).
If I wasn't doing this job, I would be…trying to get it.
The best part of my job is…the readers. The beauty swag is just the cherry on top.