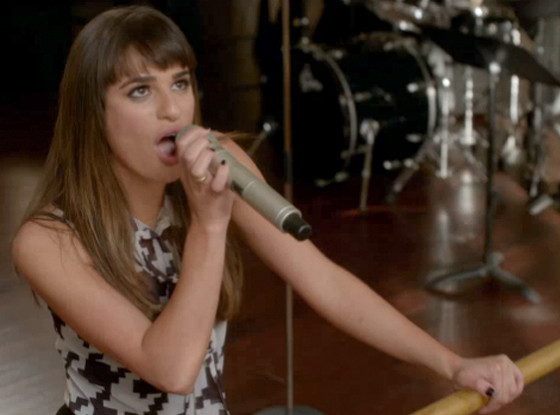 FOX
Rachel Berry (Lea Michele) is embracing her inner rock star.
Yes, our girl is getting her rock 'n' roll on in tonight's episode of Glee, which deals with the aftermath of Rachel moving out of the loft she shared with Santana (Naya Rivera) and Kurt (Chris Colfer).
The unfortunate bystander who gets dragged into the Fox hit's feuding trio's drama? Elliott, aka Starchild (Adam Lambert), who seems to be on Team Rachel after she tells him Santana and Kurt kicked her out. (Selective memory much?!)
But it's hard to get mad at Elliott joining the big roommate war of 2014 when we're gifted with an amazing duet between Lambert and Michele. We've got an exclusive sneak peek to share from tonight's "Trio," which features the duo absolutely owning Heart's "Barracuda." Seriously, can they just perform every song together from now on?!
Lambert fans will definitely want to check out tonight's episode as the former American Idol standout is featured on four of the night's seven performances, including covers of The Supremes and Wilson Phillips.
Also returning for the trio's showdown? Demi Lovato as Dani, bringing all the members of Pamela Lansbury (aka our favorite fictional band) back together again. (Fingers crossed they won't be breaking up due to in-fighting though!)
Michele recently dished on Glee's upcoming move to NYC during a chat with E! News, telling us, "It's New York now, we switched locations and high school is done for the rest of the season. So it's me and Chris and Darren [Criss] and Chord [Overstreet] and Kevin [McHale] in New York and it's so awesome."
Glee airs tonight at 8 p.m. on Fox.