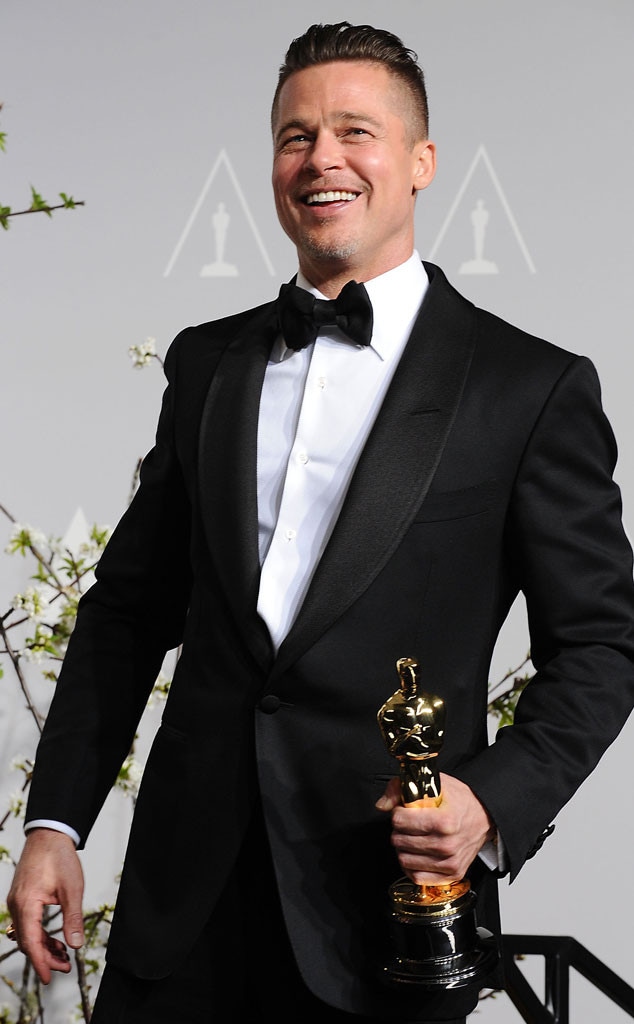 Jason LaVeris/WireImage
Brad Pitt was holding his Oscar statuette tightly when he walked into the Governors Ball last night with Angelina Jolie.
But he wasn't sure where the little gold man would eventually end up
"I don't know where I'm going to put it," Pitt told me exclusively. "I never thought I'd take one home, so I haven't thought that far in advance."
Wonder if he'll put them next to Jolie's. She took home the Best Supporting Actress award in 2000 for her work in Girl, Interrupted and received a special statuette when she was honored with the Jean Hersholt Humanitarian Award at the Governors Awards in November.
Pitt received his Oscar as a producer for Best Picture winner 12 Years a Slave.
Kevin Winter/Getty Images
"Thank you all," Pitt said in his acceptance speech. "Thank you for this incredible honor you bestowed on our film tonight. I know I speak for everyone standing behind me that it has been an absolute privilege to work on Solomon's story. And we all get to stand up here tonight because of one man who brought us all together to tell that story. And that is the indomitable Mr. Steve McQueen."
McQueen directed the real-life drama.
"I'd first like to thank the Academy," McQueen said. "Thank you so much. There are a lot of people for me to thank so I'll just push on. My wonderful cast and crew, Plan B, Brad Pitt, who without him this film would just not have been made."
The film's star Chiwetel Ejiofor agrees.
"I think the truth is we wouldn't have been able to make this film without Brad Pitt, because of what he brings," the actor told me at the movie's L.A. premiere in October. "He's a movie star. He's a huge figure in this profession, in this industry.
"So him coming on board and him being a producer made, I think, the complete difference to make the film," he continued. "It just goes to show what an individual could do when they have that kind of reach and they're prepared to use it to support filmmakers. I'm deeply grateful to him for allowing this film to be made."