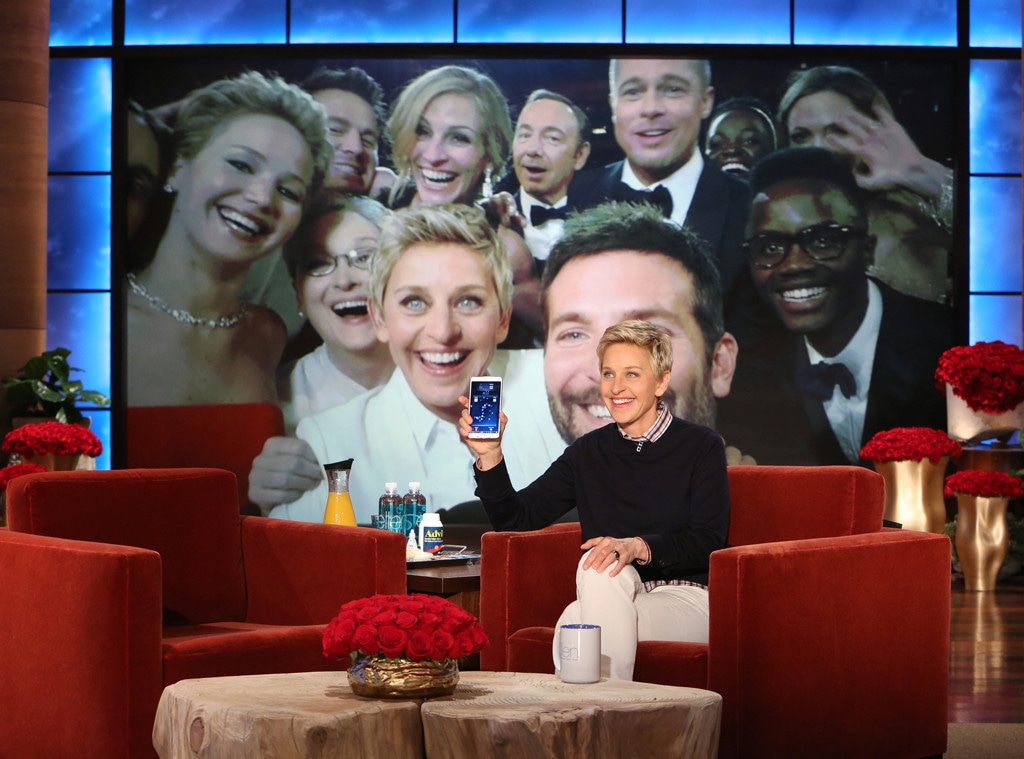 NBC
An understandably tired Ellen DeGeneres appeared on her daytime talk show today, less than 24 hours after her successful stint hosting the 86th Annual Academy Awards.
"I don't know what did y'all do last night, but I think I hosted the Oscars," the funnylady quipped to the audience on The Ellen DeGeneres Show. "Welcome to the live show. Anything can happen. I might fall asleep now. Or in 5 minutes I could fall asleep. I might already be asleep and this is just a beautiful dream. I don't know."
Luckily, the 56-year-old comedian made it through the afternoon and even dished on her post-Oscars partying experience.
"I went to two parties after the show so technically this is my third after-party. Shh. Can we dim the lights? This is too much...I might need sunglasses," she quipped as the audience roared with applause. "Actually, I feel OK. It was really fun last night. I mean three amazing guests. We have Jared Leto, Cate Blanchett and Lupita Nyong'o. And the biggest winner of the night—Edgar, the pizza guy is here."
(In case you had any doubts, Edgar really was the hero of the night for many a hungry celeb).
"So we're gonna talk about what happened last night," the host continued. "And between the five of us, I'm hoping somebody can remember where I left my cell phone. I lost that."
Of course, her cell phone, which Ellen put to darn good use during the show, is presumably now worth more than Pharrell Williams' Grammy hat, as it contains the original pic of the most epic (and star-studded!) selfie ever, featuring Bradley Cooper, Jennifer Lawrence, Leto, Meryl Streep, Julia Roberts, Kevin Spacey, Brad Pitt, Angelina Jolie, Nyong'o and her brother Peter. 
"We made history. We broke Twitter. We actually shut Twitter down," she boasted, referring to the shot which temporarily shut down the social media site. "I didn't know it was breakable but sometimes you don't know your own strength."
"We took a selfie and asked people to retweet it," she continued (the pic was tweeted 1.1 million times within just 30 minutes after Ellen posted it). "And you did. And you did. And you did. And you did. Long story short, 3 million retweets, 3 million. Most retweets ever. By a longshot."
"So, as I said we crashed Twitter and they fixed it with duct tape," the TV personality added. "I think. I don't know."
An exhausted Ellen ended her monologue by sitting on the floor before she realized she should "sit on the chair."
And while she may be back to work, DeGeneres still has lots to celebrate as the awards show (and her impromptu antics!) pulled in 43 million viewers.
She took to Twitter today to share a silly shot of herself holding two soda cans under her eyes prior to her day time show before tweeting her thanks for a wonderful Oscar night.
"What a night. Thank you again to everyone at @TheAcademy." Portia de Rossi's other half wrote. "I had a wonderful time."