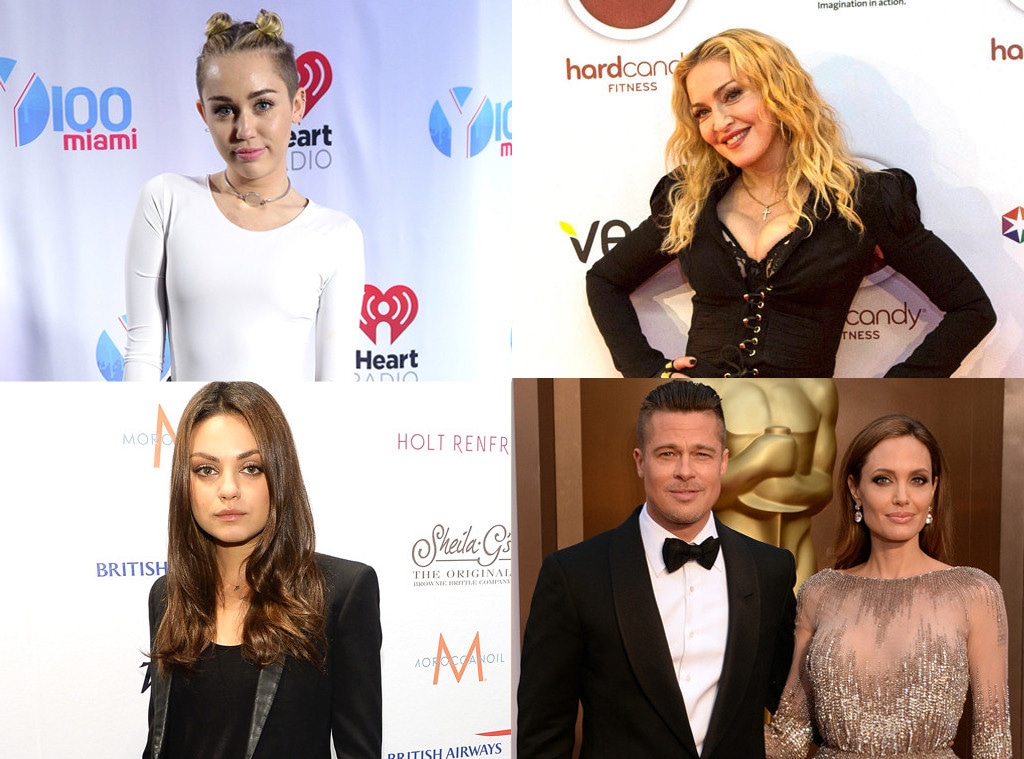 Gustavo Caballero/Getty images/ Michael Buckner/Getty Images for Variety/Jason Merritt/Getty Images/ AP Photo/The Canadian Press/Chris Young
Madonna has done it again.
The Queen of Pop threw her annual celeb-filled post-Oscars bash last night at her manager Guy Oseary's house.
And we're not talking about just any celebs. Guests included Brad Pitt, Angelina Jolie, Lupita Nyong'o, Julia Roberts, Miley Cyrus, Charlize Theron, Madonna's ex Sean Penn and spouses-to-be Mila Kunis and Ashton Kutcher.
"Brad and Angie were talking to Julia and hanging out with Lupita, who was walking around with her Oscar telling everyone it was the best night ever," a source tells me.
Kevork Djansezian/Getty Images
And then there was the dance floor.
"Miley was dancing with Madonna, and Julia was dancing with her friend," the source said. (Although not confirmed, we imagine it was Roberts' best friend from high school, who she brought as her date because hubby Danny Moder had to work.)
And continuing their PDA tour, "Sean and Charlize were making out on the dance floor," the source said.
Kunis and Kutcher (his ex-wife, Demi Moore, used to cohost the soiree with Madonna) were also spotted at the Gucci-sponsored bash, as were Leonardo DiCaprio and his model girlfriend Toni Garrn. Jennifer Lawrence was palling around with some girlfriends.
Oscar host Ellen DeGeneres was there with wife Portia de Rossi, as was Bradley Cooper with his first-time Academy Awards attendee girlfriend Suki Waterhouse. Cooper's American Hustle costars Jeremy Renner and Amy Adams also joined in on the fun.
Chris Pizzello/Invision/AP
Meryl Streep brought along her husband, Don Gummer.
Roberts did let her kids know she'd be home late. "They know I'm going to the Oscars," she told me earlier in the day on the Oscars red carpet. "I don't know if they know what that means per se, but they know I won't be home for bedtime, so that's the bummer."
Fifty Shades of Grey movie producers Dana Brunetti and Mike De Luca also hosted a private house party produced by John Terzian.
The guest list included Brunetti's girlfriend Kristin Chenoweth, Ryan Seacrest, John Stamos, Kellan Lutz, Tyson Beckford and Michael Strahan.
McDonald's provided a late-night menu of breakfast treats, including Egg McMuffins.
—Additional reporting by Sara Kitnick