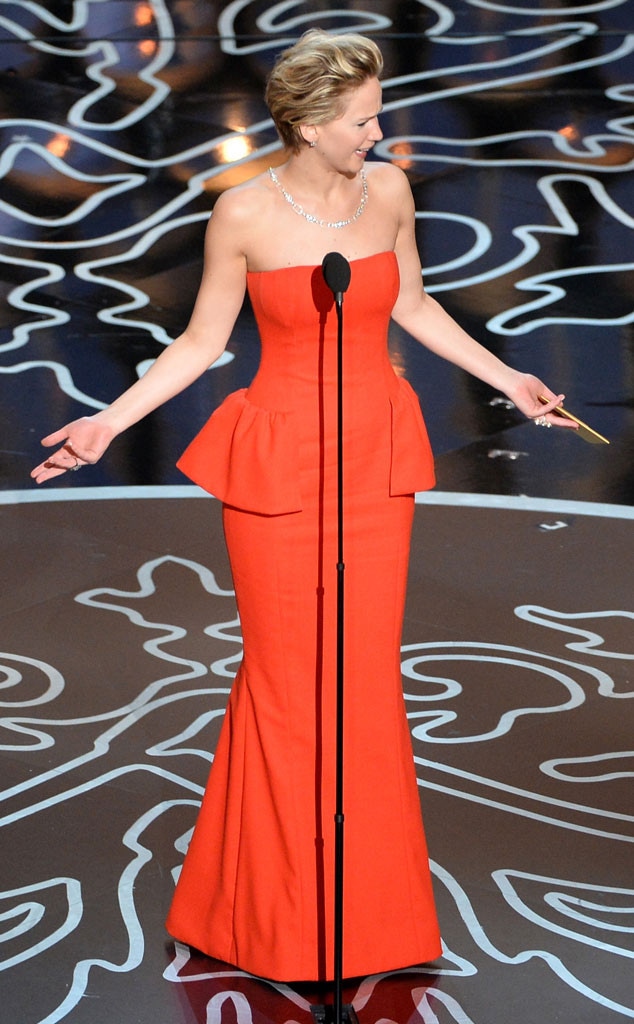 Kevin Winter/Getty Images
Jennifer Lawrence was very Jennifer Lawrence-esque tonight, you guys. She was charming, unpredictable, goofy, beautiful and of course…she fell. Hard.
So basically she did everything we expected her to do, plus a little extra.
Here's our recap of every time Jennifer Lawrence was at her most Jennifer Lawrence-y:
1. That time she didn't even get to the Oscars red carpet and she already fell. And she didn't just fall, you guys. She tripped, clawed at the person in front of her to try and break her fall, and then a cop had to help her up while she laughed. It was a spectacular fall that only Jennifer Lawrence could do.
2. When she was reminded of both her fall at last year's Oscars and the fall that happened before this year's Oscars by host Ellen DeGeneres and she was horrified at the idea of seeing footage of it played for everyone. But at least she found the bit funny. And we got to see her be all cute with boyfriend Nicholas Hoult.
3. When she had a giggle fit with Cate Blanchett on the red carpet. Who knew two women could look so classy while having something called a "giggle fit?"
Michael Buckner/Getty Images
4. When the pizza got handed out and she was already stuffing it into her mouth before Ellen could even offer her a napkin. 
5. No, seriously. That girl was real into her pizza.
7. But more importantly, that time she shoved Bradley Cooper aside so she could be a part of the world's greatest selfie.
8. Whenever she laughed, because JLaw lit up the entire auditorium.
9. That time she hid behind an Oscar statue. Or that time she basically cupped the Oscar statue's ass, whichever you prefer.
http://toddstv.tumblr.com/
We were all thinking it.
11. That time she yelled at someone (or everyone) before presenting the award for Best Actor. Who was she scolding? It sounded almost like Joe Pesci's speech from Goodfellas. What was happening there? Who pissed her off?
http://brookeeverdeen.tumblr.com/
http://brookeeverdeen.tumblr.com/
12. When she was waving at fans on the red carpet, but then that turned into her shaking her extra arm skin. It's so good...and we can't stop watching it.
13. When she fell. Yeah, we know we already mentioned it but obviously we have to bring it up again. Because...well, look at it!