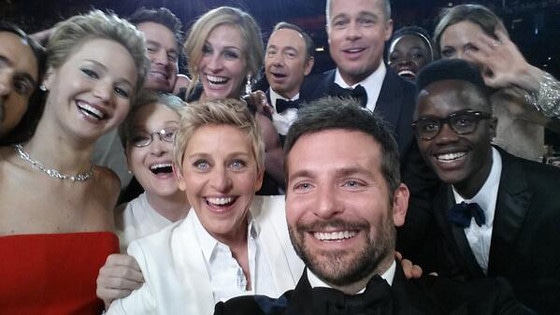 Twitter
OK, stop the presses.
Ellen DeGeneres topped her classic Clint Eastwood Oscars moment in 2007 in one click tonight when, during one of her many forays into the audience, the host of the 86th Annual Academy Awards gathered an all-A-list cast for one big, magnificent selfie. 
Handing her phone to Bradley Cooper to do the honors, she got Jennifer Lawrence, Jared Leto, Meryl Streep, Julia Roberts, Kevin Spacey, Brad Pitt, Angelina Jolie and Lupita Nyong'o and the about-to-be Best Supporting Actress winner's brother Peter.
(Not wanting Chiwetel Ejiofor to feel left out, Ellen then went to snap a selfie with him, a pic Brad and Angelina and fellow 12 Years a Slave actor Benedict Cumberbatch were happy to photobomb.)
And yes, all that star power broke Twitter once she tweeted the first pic out. Within the half hour, in fact, it was retweeted more than 1.1 million times to become the most retweeted post ever on Twitter.
The Academy ultimately took the blame for the technical difficulties that prevented even more instantaneous rewteets, posting, "Sorry, our bad."
"So this is true," Ellen informed the audience a little later. "We just crashed Twitter. We got an email from Twitter, and we crashed and broke Twitter. We have made history. See, Meryl, what we did? You and I? It's amazing, we really just made history. It's fantastic.
"It's back up again," she continued, "and it has the most retweets ever—and we're all winners tonight, that's what it means, that's what I was trying to say early on."
Well, maybe not Bradley Cooper, who's being called out for his so-called short arms after Ellen posted her pic with the caption, "If only Bradley's arm was longer. Best photo ever. #Oscar."