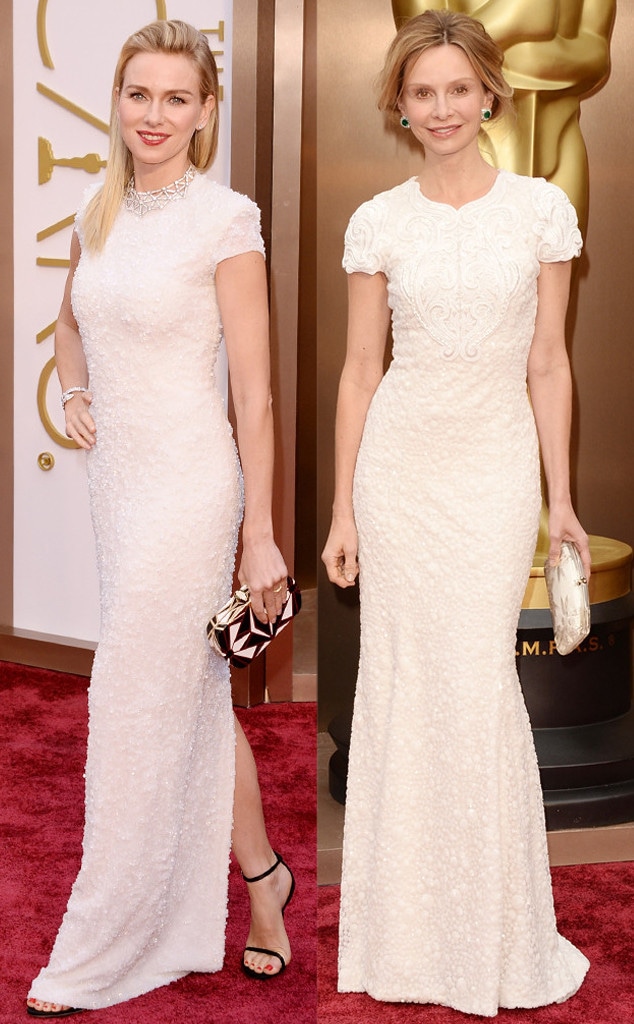 Jason Merritt/Getty Images
The winter white trend is not backing down, much to Naomi Watts and Calista Flockharts' dismay, we suspect. Both lovely ladies rocked the snowy color down the vibrant 2014 Oscars red carpet, earning high fashion marks but an awkward spot as our first face-off of Hollywood's biggest night.
Shape and shade-wise, the Diana star and the Brothers & Sisters actress look identical, so this will come down to the devil in the details.
The Impossible actress was first down the line of flashing bulbs in her equally electric Calvin Klein collection. The crystal embellishments and cap sleeves are gorgeous, but it's the statement necklace that makes this look. We've heard it compared to a diamond spider, but that's perfectly fine in our fashion book.
But the former Ally McBeal brings some tough competition in her Andrew Gn slinky creation. There's more detail to her embellishments—leaves, lines, florals and more—but we wish there was a bit more to her hair and makeup to make the whole look a bit more glam.
We call Naomi the winner of this Academy Award award. Agree or disagree?
2 Fashion Police March 2 Poll