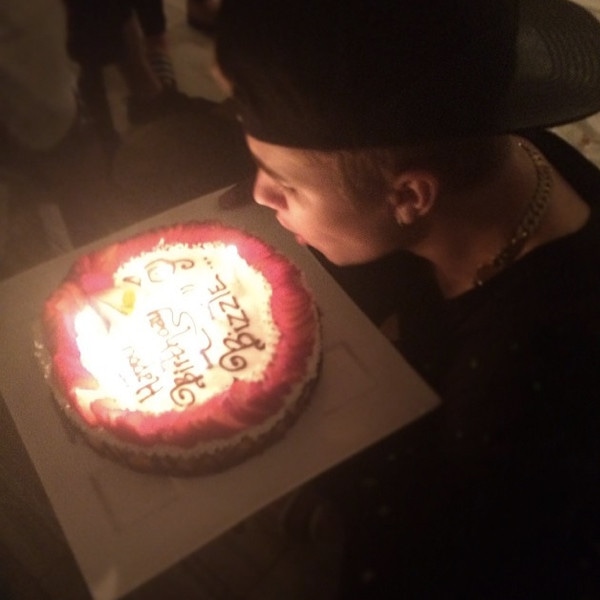 Instagram
Justin Bieber is ringing in his big 2-0.
While the Biebs has kept mum on how he's celebrating the end of his teenage years, he did retweet several birthday wishes from friends and celeb pals including Carly Rae Jepsen, his manager Scooter Braun, his parents and his Shots app business partner Johnny Shahidi.
"Love you my little bro.. happy birthday," Shahidi wrote, posting a shot of the "Boyfriend" crooner blowing out a cake that read "Happy Birthday Bizzle"
His rumored ladylove Chantel Jeffries also posted (and then deleted) a birthday tribute on Instagram, writing "Joyeux anniversaire," or "Happy Birthday" in French.
In the snap, the duo is posing together in a backyard, but it's not clear if the shot was actually taken today.
Meanwhile Bieber's mom, Pattie Mallette, also chimed in tweeting, "Happy Birthday YOU KNOW WHO! I love you. Xoxo," followed by, "20!? I haven't accepted it yet. Still in denial! I can't believe it! Not a teenager anymore.. Unbelievable. #DoesThatMeanImOldNow?."
His dad, Jeremy Bieber, also paid tribute, tweeting, "Happy Birthday son. Wow 20!"
Prior to his official birthday, the pop star had a "great time" hanging out at Andretti Indoor Karting and Games in Roswell, Ga. Sunday with several of his friends, his agent, his assistant and two bodyguards joining him in the fun during the two-hour visit.
While there, the group had a low-key day racing around the Superkart track, playing Skee-Ball and Super Trivia and climbing the Cosmic Rock Wall.
As far as whether Bieber's actual birthday celebration will be just as tame, we'll just have to wait and see.
-Additional reporting by Senta Scarborough