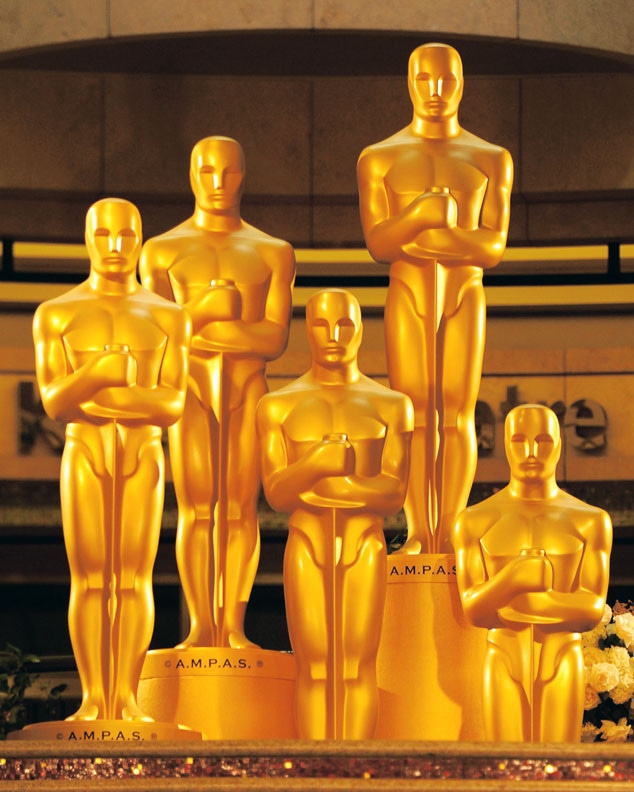 Frazer Harrison/Getty Images
The 86th annual Academy Awards are almost here.
At 5:15 p.m. PT, the doors will close at the Dolby Theater in Hollywood. Fifteen minutes later, the Ellen DeGeneres-hosted show will begin.
And here at E! News we're breaking down the Oscars—by the numbers.
Take a look...
1959: Year of the shortest Oscar telecast, one hour and 40 minutes
2002: Year of the longest Oscar telecast, four hours and 23 minutes
19: The times Bob Hope hosted the Oscars, making him the person who has hosted the show the most
Richard Heathcote/Getty Images
289: Feature films eligible for Best Picture, up seven from last year's 282
6,028: Voting members of the Academy
40.3 million: Number of Americans who watched last year's Oscars
50: Oscar statuettes created for this year's Oscars
2: Words in the shortest acceptance speech, Patty Duke just said, "Thank you," when she won best supporting actress in 1963 for her work in The Miracle Worker
11: Number of nominations for The Turning Point and The Color Purple. They received no wins.
8: Movies already being touted by The Hollywood Reporter as possible Oscar contenders in 2015
2,900: Oscar statuettes presented since the first Academy Awards
13.2 inches: Height of the Oscar statuette
8.5 pounds: Weight of the statuette
766: Media organizations that requested press credentials
289: Media organizations that were approved for credentials
75: Still photographers on last year's red carpet
399: TV press members, including crews, on last year's red carpet
67: Print reporters on last year's carpet
1953: Year of the first televised Academy Awards
25: Amount of times the show took place at the Dorothy Chandler Pavilion
13: Amount of times at the Dolby (formerly the Kodak Theatre)
500 feet: Length of red carpet at today's show
Rick Rowell/ABC, Jason Merritt/Getty Images
33 feet: Width of the carpet
25,090 square feet: Size of the Dolby
26: Oscar-related parties, listed by The Hollywood Reporter, starting with Thursday's Essence luncheon and ending with tonight's Night of 100 stars
6: Times Madonna has thrown a super-private VIP after-party
25 million: Dollars donated by David Geffen to the Academy Museum set to open in 2017
Feb. 22: Date of next year's Oscars
See you at the Dolby!