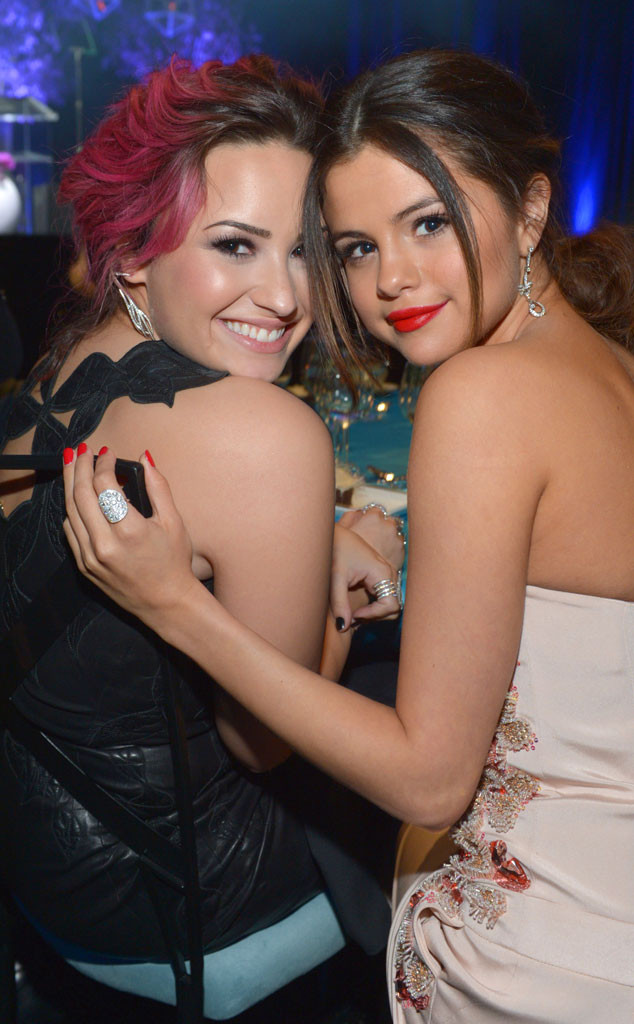 John Shearer/Invision for Bright Future International/AP Images
Selena Gomez and Demi Lovato were honored last night for their philanthropy work by unite4:good.
And it was Gomez who got choked up a bit when she acknowledged Lovato in her acceptance speech after being presented with the Young Visionary Award by her Rudderless director and costar William H. Macy.
"I'm thankful for you. You inspire me everyday," the former Wizards of Waverly Place starlet said of her longtime friend. "I hope together we can inspire people to focus on what's really important."
Macy praised Gomez's involvement with UNICEF. "Selena has maturity and grace, she's been working for UNICEF for almost five years, which is epic time in teeange years," Macy said. "She's raised a lot of money and awareness. Selena is the real deal."
Jason Merritt/Getty Images
Eva Longoria presented Lovato with the Young Luminary Award.
Lovato told the crowd of about 600 about celebrating her 21st birthday on a humanitarian trip to Africa. "I was struggling a lot with personal issues," she said. "I had to celebrate differently than a lot of other people. It was better than poisoning myself for a good night out."
Lovato performed her megahit "Skyscraper" as well as "Warrior," which she said was by inspired by unnamed incident that led to her private struggles.
Also honored were Bill Clinton, Alicia Keys, Robert De Niro, Martin Scorsese, Julia Louis-Dreyfuss and Philomena Lee, the real-life inspiration of the Oscar-nominated Philomena.
The gala, which took place on a sounstage at Sony Picture Studios, was hosted by Andy Samberg (he also received the Johnnie Walker Keep Walking Award) and presented by Variety. Guests and presenters included Jada Pinkett-Smith, Jane Fonda, Forest Whitaker, Sean Penn, Lovato's maybe-boyfriend Wilmer Valderrama, Steve Coogan, Cheryl Hines, Dancing With the Stars' Karina Smirnoff, Katherine Heigl and Adrian Grenier.
—Additional reporting by Sara Kitnick
For more from the gala, check out E! News tonight at 7 and 11:30 p.m.